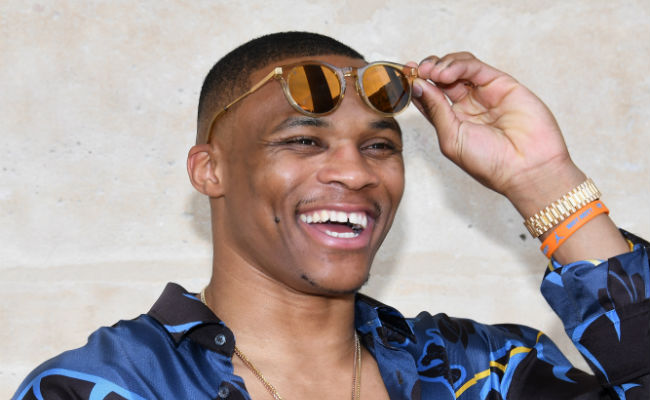 Russell Westbrook is many things. NBA superstar. Fashion icon. And soon, published author. Westbrook is turning two of his hobbies into a writing career next month when his first book, Russell Westbrook: Style Drivers, is published.
Westbrook is no stranger to the fashion game. Earlier this summer he was named the most fashionable athlete in sports by Sports Illustrated. Though some would disagree with that ranking, he's clearly a huge fashion guy and has worked with designers and stylists to carefully cultivate his look.
Westbrook tweeted about the book's release on Monday, and he seems pretty excited to share the work with his fans.
He also put up a video of him dancing in excitement for his September 5 release date. It's pretty hilarious.
The publisher's website has a blurb for the book, which notes that Westbrook uses style as a "psychological weapon."
This book is a collection of stylish and inspiring images and text that provide a rare glimpse into Westbrook's world, revealing how he uses style as a psychological weapon on and off the court and how he has redefined the role of a contemporary athlete turned cultural figure. From photographs documenting his bold and cutting-edge outfits worn during the playoffs to images of his collaborations with global style brands and original quotes and interviews with fellow athletes, designers, and creative figures that inspire Westbrook, this book explores how to be fearless and confident in fashion and in life, what it means to be stylish, and the importance of authenticity in everything from style and music to art and business.
As someone who once had to write blurbs like that I can assure you it's often hard to make books sound interesting no matter how intriuging the subject matter. But does Westbrook get into his wearing a photographer's bib before a game with noted photographer Kevin Durant? Because if we're gonna get a look at the way Russ uses outfits to throw shade, consider me in on his career as an author.