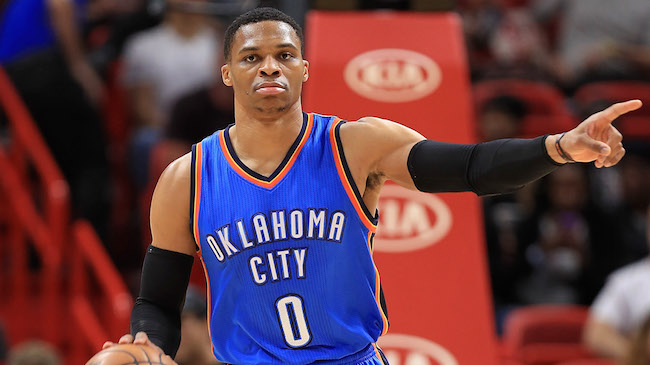 Gregg Popovich was in rare form on Monday afternoon. San Antonio's coach unloaded on Warriors big man Zaza Pachulia, criticizing him for the play that injured Kawhi Leonard and sent the MVP candidate to the locker room in Game 1 of the Western Conference Finals. While Leonard was out, Golden State managed to rally back from a massive deficit to win.
It was one of the moments that made Pop such a fascinating figure – he's known for his comically short in-game interviews, but when he feels like he can sink his teeth into a topic, he goes off. Lately his preferred topic has been the President of the United States, but he got the chance to riff on Pachulia on Monday.
Anyway, if you are a Warriors hater, Popovich's comments were probably refreshing. Let's check in on Instagram and see if anyone agrees with this … oh, hello Russell Westbrook!

Westbrook's relationship with Kevin Durant has reportedly gotten a lot better – per Kendrick Perkins, the two are back on speaking terms – but Oklahoma City's MVP candidate has never seemed like a big fan of the two-time defending Western Conference champs. Keeping things between the two players, there was a moment in a game earlier this year where Pachulia set a hard screen on Westbrook and then stood over him for a second, which led to some banter between the two.
Sure, the postseason is down to four teams right now, but it's always fun to get a periodic reminder that Russell Westbrook hates the Warriors.