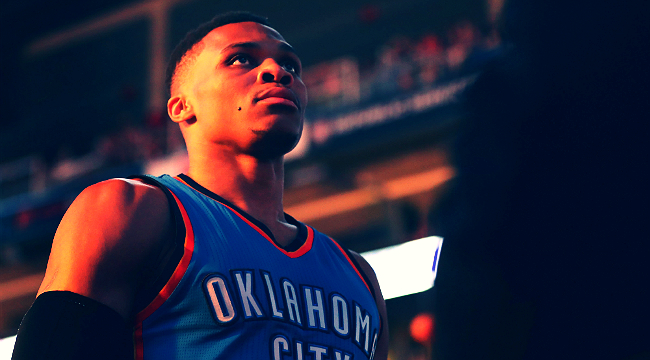 Over the past few weeks, the MVP race has been whittled down to a two-man race between James Harden and Russell Westbrook. Harden seemed to wrap up the award after Westbrook had a subpar game in a loss against the Warriors, followed a few days later by the Rockets beating the Thunder, 137-125. Westbrook (39 points, 13 assists, 11 rebounds) had better numbers than Harden (22 points, 12 assists, five rebounds) in their head-to-head matchup, but Harden got the win and had been playing out of his mind lately.
And then on Tuesday night, Westbrook happened. Oklahoma City looked dead in the water against Dallas, as the Mavericks took a 91-78 lead with 3:31 remaining. That was the last time all night that Dallas would score, while the Thunder ripped off 14 consecutive points to walk out of American Airlines Center with a 92-91 win.
Two Thunder players did all the scoring during that run. Steven Adams had two. Westbrook had the remaining 12. This included a dagger with seven seconds left on a pull up jumper from the free throw line that has become his signature move.
On the night, Westbrook had his usual silly line – 37 points, 13 rebounds, 10 assists. The whole "averaging a triple-double for an entire season" thing looks like it's within Westbrook's grasp, as does the all-time record for triple-doubles in a year.
This brings us to the debate: does piling up triple-doubles at a rate that we've never seen before make you the league MVP? Based on the multiple definitions of who deserves to win the most valuable player award, the answer seems to be: maybe.
If the criteria is simply the best basketball player on earth, then that's LeBron James. If the criteria is who is having the best season, then that's probably Westbrook, but you can also make the case for Harden, who has put up amazing numbers all year on a better team.
If you want to use the term "value" — as in value a player adds to their team — Westbrook leads the league in Value Over Replacement Player and Box/Minus Plus while having a Usage Percentage that is on pace (41.5 percent) to shatter the all-time record set by Kobe Bryant in 2005-06 (38.74 percent). The load he is shouldering for his team is unprecedented.
The MVP race is almost certainly going to come down to the final day. I have no idea who should win it (Harden, Westbrook, and LeBron have all been unreal, and Isaiah Thomas deserves more love than he's getting), but would anyone be surprised if voters value Westbrook's history triple-double numbers above anything else, even if Oklahoma City's ceiling is fourth in the Western Conference?
Considering where Oklahoma City was expected to be, maybe that's all the proof we need that Westbrook is the MVP (currently, the Thunder have the 6-seed, one game behind the Clippers at No. 5 and 2.5 games behind Utah in fourth).
Both Westbrook and Harden have nine games left to solidify their cases. It's possible that someone else emerges and wins the award, but it seems like the race will come down to those two. No matter what happens, though, plenty of people will that the other dude should have won, and really, it's hard to argue that they're wrong.