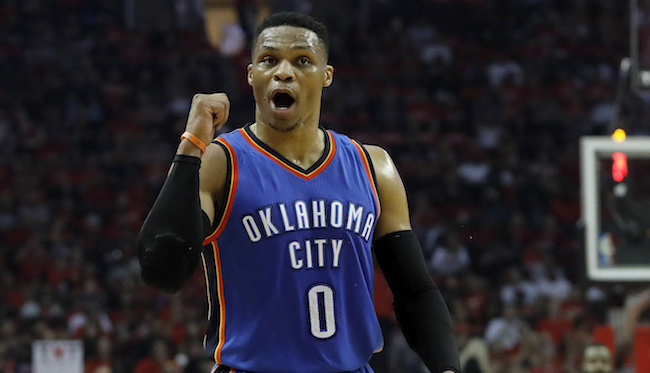 The debate over who should win the 2016-17 NBA MVP award was finally settled at Monday night's NBA Awards when Russell Westbrook took home the honors over James Harden and Kawhi Leonard. Westbrook's win was fairly substantial, as he racked up 888 voting points (69 first place votes) to clear Harden (753 points) by a pretty wide margin.
After winning the award, Westbrook was showered with congratulatory messages. Westbrook's sponsors Jordan and Samsung both put out commercials celebrating his win. Taylor Swift, one of Westbrook's favorite musical artists, even sent him a video message congratulating him on his MVP, and he received a note from Michael Jordan offering some encouragement for building on that MVP award in the future.
Along with that note, Jordan also sent Westbrook a special gift in the form of an MVP pack. The package included the new Jordan 31 "RW" shoes, that feature Westbrook's signature "Why Not" phrase, as well as a "Why Not" shirt. Both of those are available to the public, but the real prize in the MVP pack sent to Russ were the two paris of exclusive OKC Jordan 10s in bright blue and bright orange.

The pack represents his triple double season, averaging 31 points, 10 rebounds, and 10 assists (it's very clever) but those monochrome Jordan 10s are absolute flames. Shoes that are all one color don't always work, but I think in this case, both the blue and the orange look great on the 10s. The little added touch of contrast with the opposite OKC color on the tab on the heel is a nice addition.
Unfortunately for the rest of us, the OKC 10s aren't hitting the market — or, maybe it is fortunate for my bank account — but the "RW" 31s are available in limited quantity on the Nike SNKRS app.