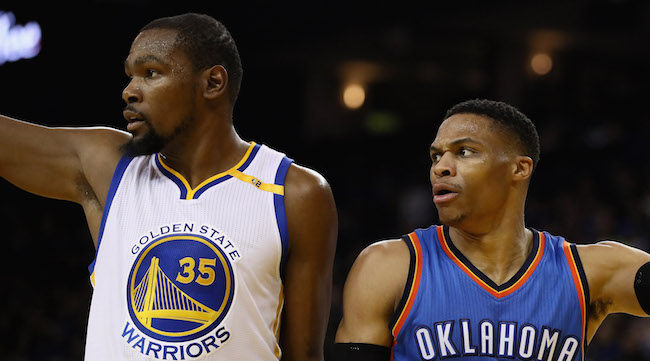 The feud between Russell Westbrook and Kevin Durant became a family affair on Thursday night when Durant's brother took shots at Westbrook on Twitter. On Friday, Westbrook's wife, Nina, joined the party with a reply to Durant's brother calling him out for seeking attention.

After it seemed as though the beef between the former teammates had maybe subsided, now it's the families that are keeping the fire going. Durant and Westbrook combined for an All-Star alley-oop that had some wondering if that was the end of any bad feelings between the two, but whether they'll address it publicly or not, there's clearly some frustrations that still need to be worked out between the two sides.
Westbrook is slowly working his way through the entire Warriors roster, as he's taken issue with Durant, Zaza Pachulia and most recently Steph Curry. The MVP candidate is torching folks on the court and isn't afraid to shake things up with his words, either. It appears as though his wife also isn't afraid of a little confrontation as she had no issue smashing that @ button and replying to Durant's brother when he tried to take a shot at Russ.
I'm just hoping this continues with more family members getting involved and for Russ and KD to pretend like it's nothing when asked about it.