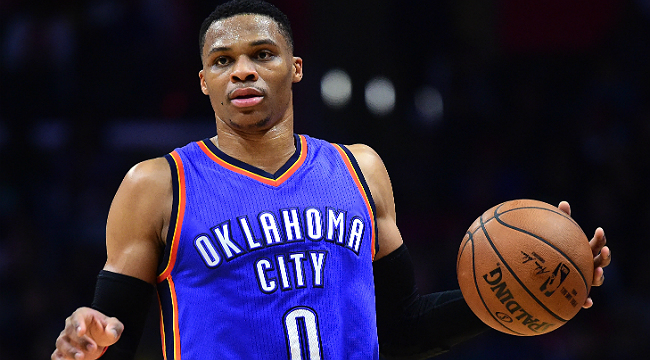 Russell Westbrook's 2016-17 campaign was worthy of the MVP Award, as he became the second person to average a triple-double over the course of the entire season. On Monday night at the inaugural NBA Awards Show, Westbrook's season came full circle as he was named the league's Most Valuable Player for the first time, taking home the trophy over James Harden and Kawhi Leonard.
After the news dropped and Westbrook gave a fantastic acceptance speech, Samsung and Jordan released a pair of ads to praise the newly-crowned MVP. First, let's take a look at what Samsung created — an ad that paid homage to the fact that Westbrook has been called a number of things over the course of his basketball career, culminating in his latest title on Monday night.

The ad from Jordan went in a more lighthearted direction, as it was animated and included a song about the insane numbers that Westbrook put up over the course of the season.
The voice of the MVP Award in the ad was North Carolina-based artist Phonte, who shouted out Westbrook after the ad dropped.

It's not uncommon for ads like this to come out after athletes do something big — Jordan released an ad after Westbrook broke Oscar Robertson's MVP record, while Nike released an ad after Kevin Durant won his first NBA championship, just to name a few. They always seem to be fantastic, and the ones Jordan and Samsung released on Monday are no exception.