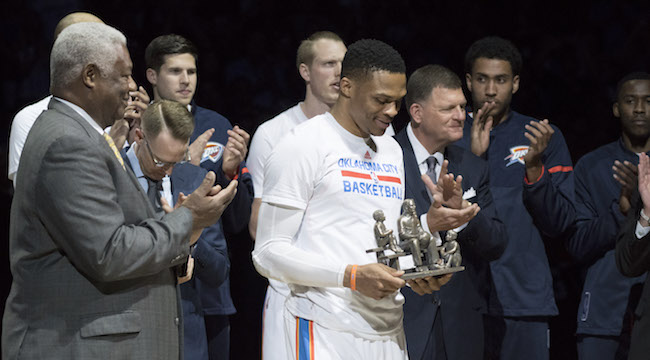 Russell Westbrook put together a historic season that landed him the 2016-2017 NBA MVP award and, if anything, the accomplishment of averaging a triple-double for a full season has almost become underrated. To illustrate that, the NBA put together a mixtape to take fans through Westbrook's dominant, MVP-worthy campaign and it begins with a compilation of all-time greats essentially declaring that the accomplishment would never happen in the future.

A (very) young LeBron James, Jason Kidd, Gary Payton and even Magic Johnson took turns shedding light on just how unlikely it would be for anyone to average a triple-double over 82 games and, frankly, they would know how difficult of a task it would be. Westbrook, though, managed to do it while appearing in 81 of a possible 82 games and, by the end of the season, it was virtually academic that he would complete the unbelievable task.
Even the man that Westbrook matched, NBA legend Oscar Robertson, has shown extensive love in his direction and it is fitting that he closes the video with an in-arena tribute to Westbrook. Robertson backed Westbrook for MVP in a way that many did but there is a special level of credibility that comes with being the only other player in NBA history to put together more than 10 points, 10 assists and 10 rebounds per game.
Russell Westbrook's season was out of this world and everyone knows it. Still, a gentle reminder of the absurdity of what he did statistically is probably warranted and the NBA did a strong job with this tribute.