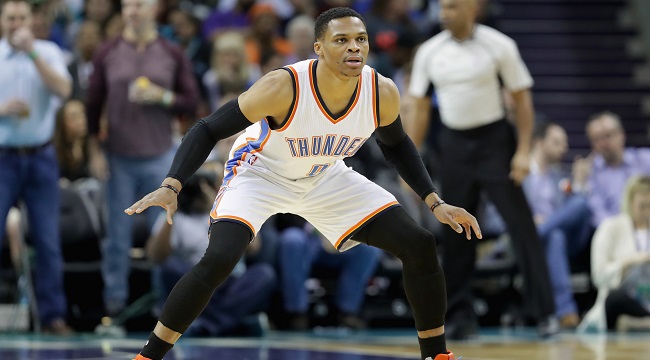 Russell Westbrook has operated as a one-man wrecking crew throughout the 2016-2017 NBA season. In the aftermath of his now infamous break-up with Kevin Durant, the Oklahoma City Thunder point guard has channeled his unique personality into a perfect storm of fury on the basketball court, to the point that Westbrook tied Oscar Robertson with an NBA record 41st triple-double on Tuesday evening.
It took only 27 minutes of play for Westbrook to rack up 12 points, 13 rebounds, and 13 assists in a blowout win over the Milwaukee Bucks on Tuesday. But instead of making it all about him in the post-game press conference, the talented point guard took time to reflect on what Robertson did to pave the way for this performance.
Westbrook, at least behind closed doors, is known as a reflective and intelligent individual that is more than willing to speak up about social and political issues. In this instance, it is clear that Westbrook is quite appreciative of the climate in which Robertson played, as he was a champion of civil rights and a key force in the NBA at a time in which the lifestyle of the professional basketball player did not resemble what it is today.
https://twitter.com/erikhorneok/status/849470392540463104
Russell Westbrook isn't the first or only NBA player to acknowledge what pioneers like Robertson and Bill Russell have done to make what he does possible on a nightly basis.
With that said, it was undeniably cool to see him point that out at this particular time and it wouldn't be a surprise to see another reference in the same vein when and if Westbrook breaks the record before the end of the season.