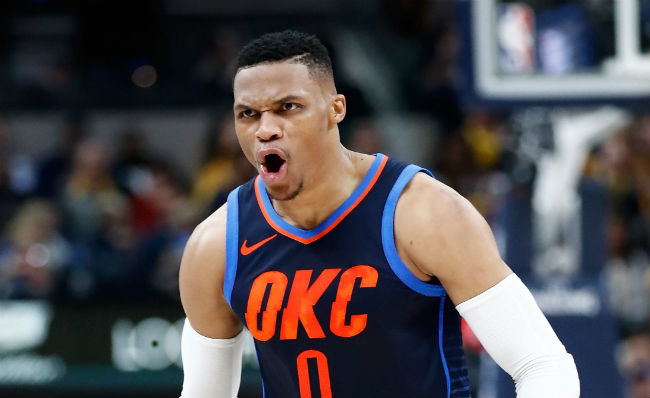 Russell Westbrook had himself a game on Thursday night. The reigning MVP throttled the Washington Wizards in a 121-112 Thunder win, going for a season-high 46 points on 19-for-29 shooting, six assists, and six rebounds. This came on the heels of Westbrook being drafted to LeBron James' squad for the 2018 NBA All-Star Game.
Westbrook's team is going to be fun — that's the general nature of an All-Star team, but this one has Westbrook, James, Kevin Durant, and Kyrie Irving on it, so the potential for silliness is off the charts. The bad news is that it's not as fun as it could be, because up until late Thursday night, Westbrook thought he was the last pick in the draft.
During the Thunder's postgame media availability, Westbrook was asked about being picked by James. After some egging on, he revealed that someone made him think he was picked last in the draft because that's how it showed up on the paper he saw. As it turns out, it was just in alphabetical order.

In fairness to Westbrook, it seemed more like Carmelo Anthony was egging him on than he honestly thought he was picked last. Plus if you think about it for half a second, there's no way that Russell Westbrook would be picked last in any draft like this.
It is still funny to think about this, especially because as Royce Young pointed out, Westbrook was going up against the guy right ahead of him on the All-Star list.
Wall, for the record, has 21 points on 7-for-16 shooting and 12 assists on the evening, so maybe there's something to the whole "Westbrook thought he went last" thing.