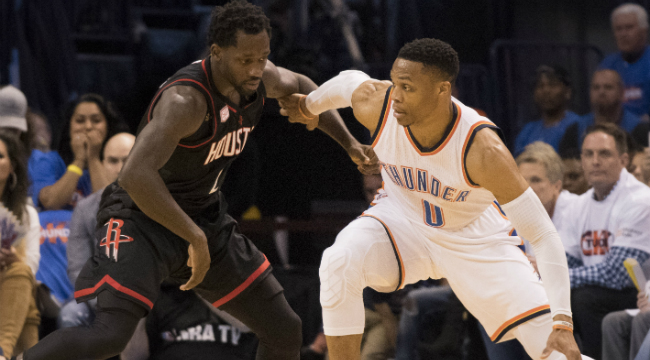 Russell Westbrook and Patrick Beverley do not like one another. Beverley played his signature brand of hyper-annoying defense on Westbrook all series, and while it didn't always work, the Rockets' guard was unrelenting.
The two got into a spat during Houston's series-clinching victory, which poured over into the postgame press conference. Beverley claimed Westbrook said no one can guard him, to which Beverley replied "you took 34 shots to get it.' I'm not up here trying to bash anybody, but I mean, men lie, women lie, the numbers don't."
Westbrook got the opportunity to reply to Beverley during his postgame presser, and he didn't mince his words.

"He was talking about he was first-team All-Defense," Westbrook alleged. "But I didn't know what hell was talking about cuz I had 42 at the time. The series … I don't know what he talking about. Maybe he was dreaming or some sh*t. I don't know. Sorry, excuse my cuss word, but I don't know what he was talking about, but I guess he wanna be first-team All-Defense or something. Maybe he was dreaming about it. I don't know."
Yes, the Thunder are eliminated, but I so very badly want Beverley and Westbrook to have to play basketball against one another again before this season concludes. Oh well, we'll have to just wait for the two teams to meet up during the 2017-18 season.