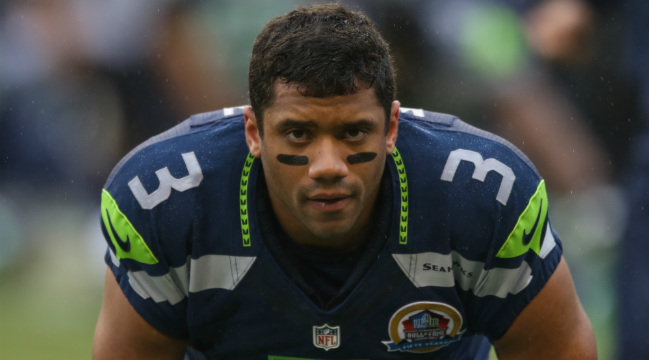 More than ever, it sounds like there is a big time effort to bring the Sonics back to Seattle. A group of investors led by hedge fund manager Chris Hansen – who has attempted revive Seattle basketball in the past – is reportedly looking to build an arena in the Emerald City without the help of any public money. Whether their proposal gets approved is another story, but for now, there are reasons to believe that there may be a place for the Sonics to play somewhere down the line. This would also open the door for a hockey team to come to Seattle, but the bigger headline, of course, is the Sonics.
If there's one thing missing, though, it's some star power to potentially push Hansen's group's effort over the top. Thankfully for people who think this important, Russell Wilson is here to save the day.
This kind of seems like Wilson wants to get in on this so he can get a little credit in the event that this happens, and whether or not Wilson does anything other than be a public face for this mission remains to be seen. It's hard to imagine that having Wilson on the side of Hansen's group will do much of anything, but if it makes him feel better about potentially bringing the Sonics back and an NHL team to Seattle, more power to him.
Actually, who knows? Maybe #ALLRUSSELLWILSONEVERYTHING will happen and his influence will get this approved. Anything is possible with Russell Wilson.