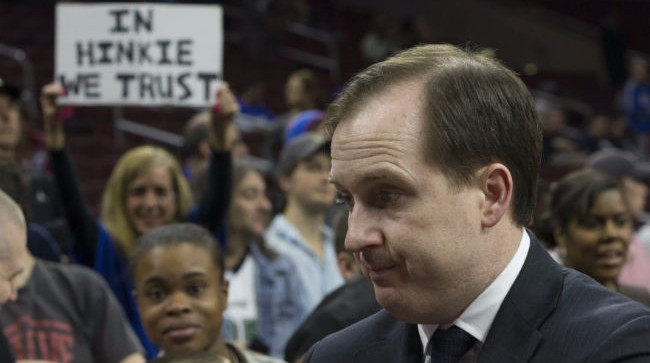 Sam Hinkie's Process is playing out nicely in Philadelphia with the 76ers, but it's happening without him in charge of the team. After a decent layoff from working in sports, though, it appears the tanking mastermind and former Sixers executive has brought his analytical mind to a new sport.
Hinkie is responsible for The Process in Philadelphia, which led to draft picks like Joel Embiid that were crucial in a playoff berth for the Sixers this season and the potential to be a force in the Eastern Conference for the next decade. He was derided for the callus nature of the equation, though — mainly that a lot of losing was part of the cost to get players like Embiid, Simmons and Fultz.
But while his time away from sports has involved meetings with plenty of people outside of front offices, it appears that Hinkie is ready to take his approach to the National Football League, namely the Denver Broncos.

The Athletic's Nicki Jhabvala reported on Friday that Hinkie recently visited Broncos team headquarters and helped the team with a variety of analytical analysis.
Sam Hinkie, the former general manager and president of the Philadelphia 76ers, spent Thursday consulting with the Broncos at their headquarters in Dove Valley, according to a source. He met with Elway, along with the pro and college scouting staffs, spoke to Broncos director of football analytics Mitch Tanney and analyst Scott Flaska. He spent time with Mike Sullivan, the Broncos' cap guru formally known as the director of football administration, and he met with the team's athletic training staff and the strength and conditioning coach, Loren Landow.
This doesn't mean the Broncos (intentionally) intend to lose games anytime soon, but it's interesting that another team is willing to give Hinkie some work. Analytics is a growing focus for many sports organizations in the pros, and despite the optics that come with Hinkie, there's no question that he can provide valuable insight for teams. That tone might change if he's allowed anywhere near the Broncos' roster, though.