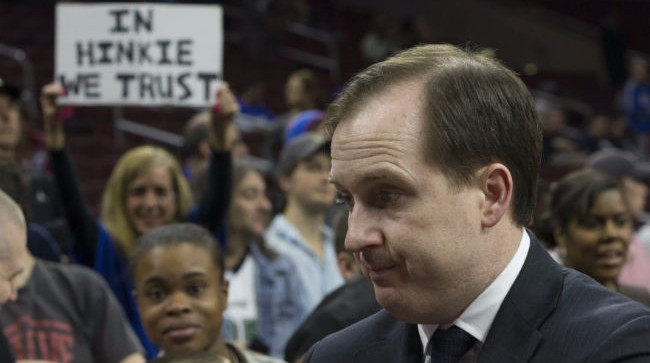 The Houston Astros emerged triumphant in the 2017 World Series and, while that victory over the Los Angeles Dodgers was intriguing on a number of levels, an off-the-radar person in the sports world weighed in beautifully after the fact.
On Thursday afternoon, former Philadelphia 76ers general manager and curator of "The Process" Sam Hinkie hopped on Twitter and declared his "love" for the way the Astros claimed the ultimate in baseball glory.

While the Astros were absolutely dominant in 2017 behind a transcendent offense, Houston suffered mightily during its rebuilding phase. The Astros lost 111 games in 2013 after losing 107 games in 2012 and 106 games in 2011 and, well, that aligns perfectly with the message that Hinkie brought to Philadelphia in constructing a dynamic and talented roster based on the accumulation and capitalization of high-end draft assets.
Of course, a rebuild in "tanking" fashion like this does not necessarily ensure the ability to win championships, the Chicago Cubs executed a similar method before winning the title in 2016 and the Sixers look to be on the upswing with Ben Simmons, Joel Embiid and company right now. Of course, Hinkie famously won't see the ultimate fruits of his labor and that is what makes this not-to-subtle dig at Philadelphia so intriguing.
Hinkie laid the groundwork for what could be an awesome future for the Sixers and, while he could simply be praising the Astros for great work, it seems likely that it is said through the prism of his ousting in Philly.