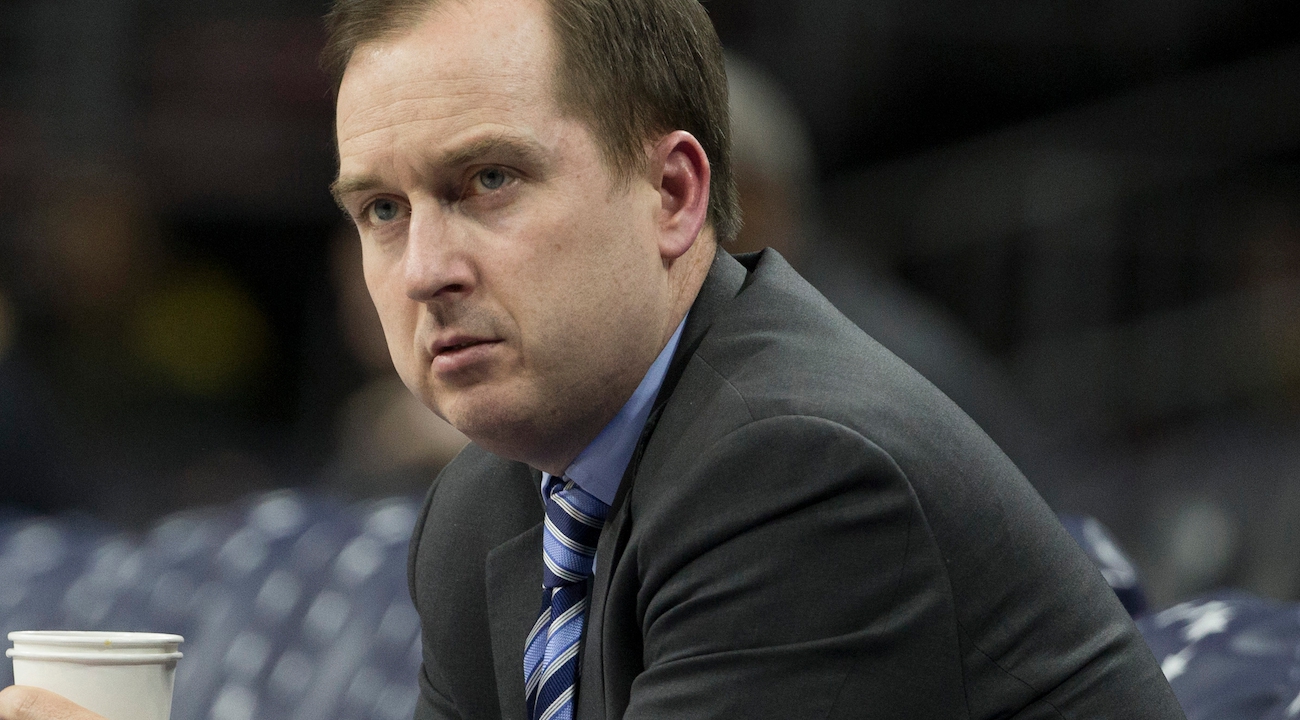 Back in July of 2015, then-Sixers GM Sam Hinkie pulled off quite a heist when he traded the rights to two European players for Nik Stauskas, Carl Landry, Jason Thompson, the option to swap first-round picks in the 2016 and 2017 drafts, and a protected 2018 pick that turned into an unprotected first-round pick in 2019. It was proof to many that Hinkie could be quite the dealmaker, and that the Kings' front office may have been in over its head.
Apparently, Hinkie may go from ripping off the Kings to joining their front office. According to Marc Stein and Zach Lowe of ESPN, Kings owner Vivek Ranadive is reportedly interested in bringing the architect of The Process to Sacramento.
The pair also reported that "other undisclosed teams" have sought out meetings with Hinkie, who left the Sixers somewhat controversially in April of 2016 and was immediately replaced by Bryan Colangelo. This happened a few months after Colangelo's father, Jerry, was named Philadelphia's chairman of basketball operations.

Adrian Wojnarowski of The Vertical added some context to this report, saying that Ranadive has looked for someone to be placed above Kings general manager Vlade Divac. He also noted that there's no guarantee that Hinkie would be interested in this position.
If Hinkie were to take this job, he would walk into a situation similar to the one that existed during his tenure in Philadelphia. The Kings are in line for a lengthy rebuild, one that could take several years before it leads to any type of postseason appearance. While the team has some intriguing young assets like Buddy Hield, Skal Labissiere, and Willie Cauley-Stein, it's still a roster that needs a massive overhaul.
That is Hinkie's bread and butter, as we saw with the Sixers. Plenty of the reasons for optimism in Philadelphia right now have to do with moves made by Hinkie, whether it be selecting Joel Embiid (when he's healthy) or Ben Simmons, or trades that have led them to have the potential for multiple top-4 picks in the loaded 2017 Draft.
Really, whichever team ends up hiring Hinkie will make an interesting move. He is the kind of guy who will come in and immediately try to turn the organization on top of its head if need be. You can make a really strong case that Sacramento needs that more than any team in the league, and if they really are interested, it sounds like everything will come down to whether or not Hinkie would want to be employed by Vivek and the team he fleeced in 2015.

UPDATE: If the Kings are to be believed, Hinkie is not heading to Sacramento any time soon.
This requires the usual disclaimer: just because the team says they have no plans to bring in Hinkie or hire anyone above Divac, that doesn't mean things can't change. But for now, let's take the Kings at their word and assume that this isn't happening.