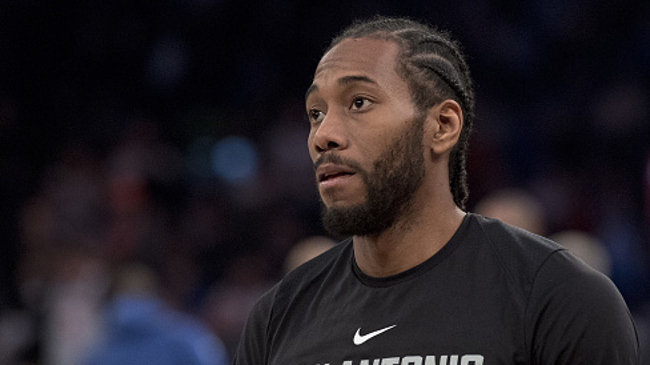 Priority number one for the San Antonio Spurs this offseason is, understandably, coming to a resolution on the ongoing Kawhi Leonard saga. While Gregg Popovich reportedly is going to try and do what he can to get a foot in the door with LeBron James, Leonard is the team's established superstar, and figuring out what his future holds is the most important thing.
Are the two sides able to bury whatever weird hatchet existed this year over Leonard's quad injury and agree to a contract extension, or has the damage been done? If it's that second thing, the big question then becomes what team is willing to do what is necessary to acquire Leonard's services.
According to Adrian Wojnarowski of ESPN, one team has already tried to put together a package with the hopes of coming to an agreement with the Sports. That would be none other than the Boston Celtics, which Wojnarowski reports were rebuffed by San Antonio at the trade deadline.
The Boston Celtics made a trade offer to San Antonio before the February deadline, but the Spurs turned it down — and never made a counterproposal, league sources said. San Antonio wasn't willing to discuss deals for Leonard in February. So far this spring, the Spurs remain resistant to trades.

Both of these things make sense. Obviously as long as the Spurs believe they have a shot at repairing this relationship and retaining Leonard, they need to do that, as there aren't many basketball players on earth who can do what he does on both ends of the floor.
For the Celtics, a team that is constantly in pursuit of stars and possess a war chest of assets that few (if any) NBA teams can match, Leonard is the type of player for whom you roll the dice. Putting him on the floor with Kyrie Irving, Gordon Hayward, and Al Horford — assuming the Celtics would have kept all of them in their proposed deal — would give Boston as formidable of a starting five in the league once everyone is on the floor and healthy.
But alas, this deal did not come to be. Perhaps something could be in the cards later this summer if the Spurs cannot fix things with Leonard, but even if that's the case, the Celtics would face some stiff competition. As Wojnarowski reported, both the Los Angeles Lakers and the Philadelphia 76ers possess the interest and assets to make a run at Leonard should he become available, too.
(Via ESPN)