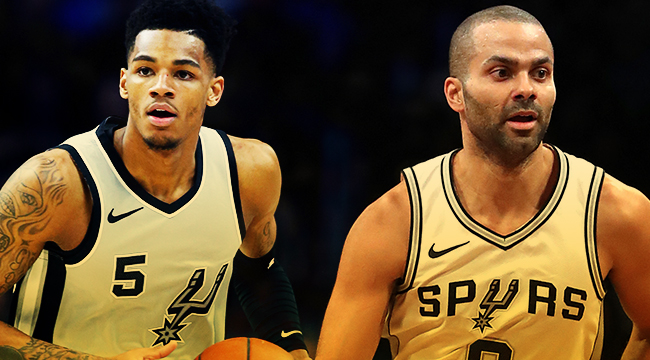 Tony Parker started at point guard for the Spurs longer than most people do most things. His was a stretch that lasted from late 2001 until this year, when Parker slid aside upon the sight of onrushing second-year guard Dejounte Murray. Tony eased the transition respectfully, acknowledging the 21-year old's knack for handling all this.
NBA resumes never come this mountainous, without the seeming burden of San Antonio's expectation to work until June, but Parker prevailed. Sixteen-plus years is the length of the lifetime's worth of trust needed to cash in on a driver's license. If public transport is more your thing, your first day on Twitter probably came with Tony only midway through his run as Spurs starter.
The drill goes directly in because Parker and coach Gregg Popovich — son of a pro player and Son of This Earth — never really cared for anything less than on the record. Their relationship wasn't saddled with outsized expectations from its professional start and freed from that burden the duo had no choice but to keep it achingly sincere. And to be smartasses.
Some hallway conversations just happen to be the loudest in the office, you needn't read too much into the stuff that literally everyone can hear. The shouts don't have to come from the most important people in the building or the most desperate for attention, not even even the most careless. Some dudes are just loud around each other, anger isn't what's pumping up those word balloons.
We'll get just as many of those interactions now, even with Parker on the bench, because it's never been about the last incident with these two.
They just can't help but chatter, Parker's necessary movement from seat to "SUB!" leads him briskly past the bristliest coach of all, and now Tony has to run plays!
If the 35-year old thought he could ease into his Terry Porter Years as a cog in a beautiful basketball machine, one of those airy San Antonio intangibles that works without form and shape, he'll have to wait out the paperwork, first.
Pop has done well to pair Parker with San Antonio's typical assortment of thick-wristed shovel-passers since Tony hit the pine, but combo-platters like Manu Ginobili and Patty Mills can't wrest like they used to, and neither can Parker. The salamander burns a little blue.
The Spurs boast a comfortable, if not exactly devastating, array of options. Rudy Gay gave it the rundown after Pop admitted on Wednesday that, yeah, at this point the relationship between Kawhi Leonard and the Spurs might not be able to share a court any time soon:
"[Pop] He gave you an answer. We support Kawhi, but we can't sit around waiting for anybody. We're a team. People have stepped up. LaMarcus [Aldridge] has stepped up. Kyle [Anderson] has stepped up. Davis [Bertans] has stepped up. People are definitely trying to fill the role as best they could."
Bertans and Anderson are slicksters with big butts that leave semi-legal barriers in place long enough to present Parker with what he loves (basketball) best — more Spurs, in that field of vision, than opponents. Claps are to be acknowledged with appropriate backs once LaMarcus Aldridge and Pau Gasol towel off in time for short bursts of tall buildings with Tony still on the court.
By the time the fourth quarter hits, though, Murray closes the close ones.
Parker stands in front of the bench, Guy in Shorts in Winter, looking like he's ready to pick the kids up from practice.

Friday nights are what you order in San Antonio. Two streams of taillights in the darkness, leading toward those lots, kind and patient people that still act this way even after insisting upon calling you "boss."
Fear of cliché can't get in the way of admiring what's right in front of you. Games in this town feel less like an event tied to a national league than in any other NBA city in ways that have less to do with size, than spirit. Remove the seats and your butt is back on the bleachers, aunts are sharing blankets. The Spurs are killing it in local TV ratings, this season, among all this.
The San Antonio Spurs have never been a bad basketball franchise. The club has endured bad three terrible seasons — David Robinson, Sean Elliott, Tim Duncan — and San Antonio fans have sat out four postseasons in total since 1973, which is the same year Bartolo Colon and Juwan Howard were delivered by stork.
There is expectation here that doesn't exist in any other NBA outlet, it's annoying but true. Also unique to the area is what it does with that excellence, in developing a dome's worth of sporting patience in exchange for the goodness that can't help but come next.
Outsiders routinely lunge at co-opting this brand of empathy, but it's clear where the refinement comes from. Any minute spent in San Antonio confirms the influence that brought Gregg Popovich's stew down to an acceptable simmer.
Not every sideline gets a statue, and the Spurs had four head coaches to spin the 1990s before Pop came around. Larry Brown, Jerry Tarkanian, John Lucas and Bob Hill all did a fine job of telling San Antonio why it was doing a fine job, prior to Popovich stepping in to call a Spur a Spur.
His first full season as San Antonio coach went well, 56 wins and the Rookie of the Year for Duncan in 1997-98. Still, the Spurs lacked next-century athleticism, name a position. Luckily, the Vancouver Grizzlies were run by Stu Jackson. Name your price.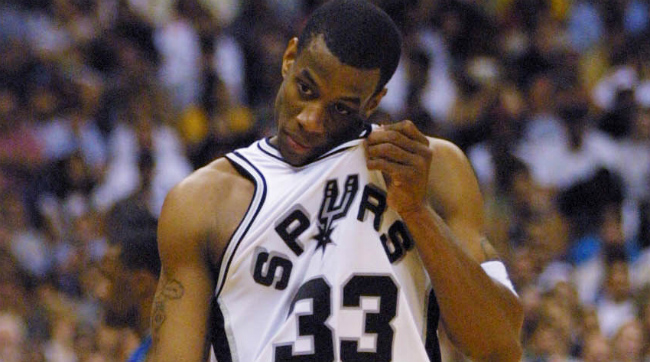 Just before the NBA's 1998 lockout hit, on the same draft night that saw Vancouver select Mike Bibby to run a franchise, the Spurs pulled Antonio Daniels from the Grizzlies in exchange for journeyman forward Carl Herrera and Felipe Lopez.
A combo guard with an ability to sky out for Stansbury Dunks, Daniels was Jackson's No. 4 overall pick in 1997. He averaged 7.8 points and 4.5 assists in 26.4 rookie minutes per game with the Grizzlies in the year Duncan took the trophy.
By June, Jackson was seen swabbing the deck clean for Bibby to mope his way up north, with Lee Mayberry acting as his tongue-tied tutor, and the presentation clearly took hold:
Mike Bibby admits he does not reminisce about Vancouver much. After the Grizzlies' final year there, the 6'2" point guard vacated a downtown condo and never returned to the city in which he spent his first three NBA seasons—until [2016]."

[…]

Walking around the city before the game, he found himself lost. He remembered the rain, but had problems recalling what condo he lived in or which restaurants he frequented.
"That was 14, 15 years ago," said the 37-year-old Bibby. "I can barely remember yesterday."
Daniels' rookie-contract entrance into San Antonio was the steal the club needed.
Avery Johnson entered the lockout as the team's starting point guard. Everyone but Avery thought an upgrade in order. Even starchier was the presence of Vinny Del Negro, whose combo-guard acrobatics were just about over at age 32, his three-point reticence was no help for towers of any design. Both vets played well in San Antonio's playoff loss to Utah in 1998, but that's against Utah.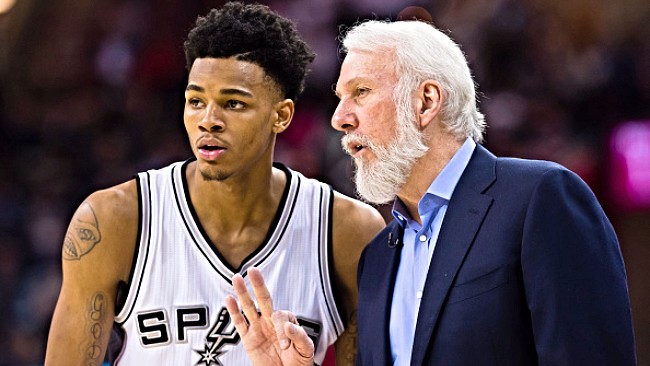 Herrera was San Antonio's 11th man that year, he appeared in 24 minutes during the five-game Utah series. He was set to turn 32 before the next season started and Jackson still offered San Antonio the fourth pick in last year's draft for Carl Herrera. Lopez had yet to play an NBA game erratically, and he was already four months older than Daniels.
"He has great size and length. He is fearless. He gives us a lot of speed when nobody would call us the quickest team in the country. He gives our pace a big boost."
Gregg Popovich on Dejounte Murray, in 2018. Not Antonio Daniels, in 1998.
Daniels received his spot on the Spurs long before the team knew it would emerge from the lockout with Johnson still on the roster, six months before Steve Kerr was locked in with a five-year, $11 million deal as San Antonio's top free agent prize in early 1999.
In the green world Pop helped create, the NBA we're currently so smitten with, Daniels may have been given the opportunity to unsettle a team that looked as if it needed the disruption. The fin de siècle had other ideas about his station:
"I knew I probably wouldn't make as big of an impact on a team like the Spurs than I would on a team that is not as high in the league."
Johnson's minutes ascended at age 32, with Popovich battling for his job and the Spurs working through a 6-8 record to begin 1999. Daniels didn't disappear, Pop even found more minutes for Antonio than Kerr as the season moved along, but his bench was for learning.
Daniels lost his older brother to an irregular heartbeat in 1996, a year before Vancouver selected him No. 4 overall. By the time he got to San Antonio, he was lucky to have a few guys ahead of him in the rotation:
"[Avery Johnson] and I have lunch every road trip before every game," he says. "We just talk about basketball, and, more importantly, about life. He's really helped me through some of the difficult times I've had here."
Kerr worked in reserve:
"Steve and I have worked together a lot one-on-one," he says. "We stay after practice and shoot and play against each other. Even before games, we sometimes play one-on-one. Steve has helped me a lot confidence-wise. Before I was playing, and even now, when I am playing, he says a lot of things to me to send me into the game with the right attitude."
Daniels started just once in his first two seasons in San Antonio, working as more of a settler than a slasher off the bench, five points and a couple of assists in 15 minutes a game. His marvelous athleticism often didn't create: Daniels' San Antonio rebound rates cower in comparison to what Parker, oaken by now, pulls down in 2018.
Rather than promoting Daniels in his second season with the club, the Spurs picked up the 36 year old Terry Porter ahead of 1999-00. Another mentor with whom to break bread and 48 minutes.
"I do get frustrated. But, everyone gets frustrated. I just have to realize that sooner or later my time will come, and when that time comes, I just have to take full advantage of it."
The Spurs re-signed Daniels to a three-year, $9.5 million contract late in the 2000 offseason, soon after Duncan returned to the team after his public free agent courtships. Chirps at the time plucked that Daniels' deal had more to do with a reported team-best friendship with the franchise's best player than San Antonio's interest in retaining its own prospect into his prime seasons.
With Johnson and Porter around but suitably washed, Daniels averaged 17.2 points and 3.7 assists as an eight-game starter in the 2001 postseason. Popovich shipped Kerr to Portland in the offseason for Steve Smith, a dedicated aging swingman, and due to Dan Issel, the 34-year old Johnson had a three-year, $15 million free agent contract waiting for him in Denver.
Daniels haaad to be the starter now.

(Listen to Inside the NBA's Chuck-to-EJ-to-Kenny boilerplate, here, working after its first full season with Charles Barkley:
Chuck: "I don't know that much about him, but if he got [drafted] in the first round, he must be a good player."
Ernie: "That was rather profound!"
[Kenny Smith talks about basketball]
All three of them probably had a goatee.)
Daniels started the first four games of 2001-02, averaging 12.7 points with three assists in 30 minutes a game, and the Spurs split the underwhelming run.
"We decided it was the best thing for the team right now and for the future. Antonio is a combo guard. If Tony Parker wasn't here, he would be our guard. He has been our point guard and has done a good job."
Parker started the fifth game of his first season, against Orlando. He'd miss seven of nine shots but he also earned nine free throws from NBA referees in the year 2001, at the age of 19.
AD came off the pine to contribute seven points, four assists and three rebounds alongside a bench unit consisting mostly of studio analysts, former general managers and ex-coaches. San Antonio won, by a lot, with Parker starting.
When the rookie sat nine games with an injury in January, the Spurs lost six of nine with Daniels leading the lineup.
"His talent level along with his fearlessness make him a pretty good candidate. And he can accept criticism. When he does something wrong, it's not somebody else's fault. He wants to get better. Mistakes are important to him. So for all those reasons, we are going to go do it."
Pop on Murray, not Parker. He'd never say that about Tony Parker.
Parker wasn't supposed to clinch a Hall of Fame career when he supplanted Johnson in San Antonio, he was just supposed to replace the guy who got too old. Fans and franchise together expect the same from Murray this spring – just remind us that this is a young man's game, please.
Daniels' impact lasted beyond that lost week as a starter. He worked in every game during 2001-02 behind Parker, the springiest guard on the league's second-best defense. Once he got used to the role, Antonio topped 26 minutes a night in front of the NBA's strongest attendance marks, scoring nine points and dishing out three assists.
San Antonio's ten-game playoff run saw him hit double-figure scoring marks six times off the bench, but the Spurs' long-estimated run at Jason Kidd had firmed up, and Parker made one-quarter of Daniels' salary. The Spurs sent Daniels to Portland in the 2002 offseason, landing the returning Kerr and those streaks of Western-clinching jumpers that Daniels may not have had the stroke for.
The Spurs' doctorate had to be worth the frustration, Daniels signed expertly-chosen deals to work swimmingly with Seattle and Washington in the years that followed. Ernie Grunfeld even paid him the league average until he turned 35.

Some years it's a tailback, some years it's a senior class of defenders, and sometimes it's the quarterback. San Antonio doesn't work in obvious replacements; the franchise has been around long enough to know better.
Coach Pop publicly admonished himself for treating LAldridge as an ideal instead of a person earlier in 2017-18, and now his new point guard puts up Boris Diaw stats as a starter: Murray is at 10.1 points with 7.3 rebounds and 4.0 assists in 28 games at the position, 25.8 minutes a contest.
Dejounte boasts an all-world defensive rating and has hit two three-pointers in ten attempts since supplanting Tony. His all-around guidance will have to spin tighter in the season's second half, and the Spurs could spin themselves a Shaun Livingston-type if the movement sustains.
That's for 2018 to show Murray. Let's leave 2034 for some other lifetime to tell.