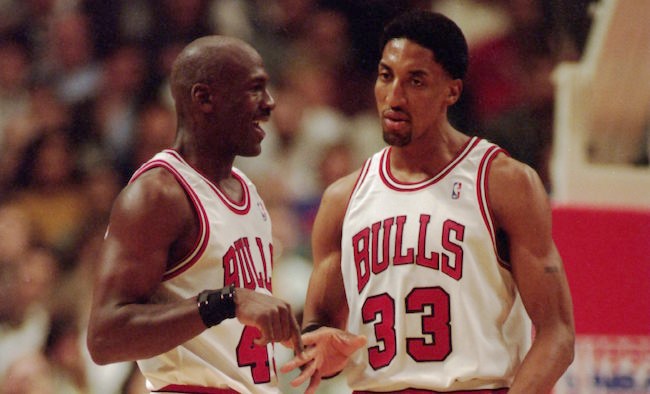 We're to the point where we'll be debating LeBron James vs. Michael Jordan for, probably, the rest of our lives. There's already a case to be made for LeBron and it's only going to get stronger as he continues to climb up all-time lists.
What we can be almost assured of is that James will not surpass Jordan, or even match him, in championships, which will forever be the trump card for many in the argument between the two. That said, as James eclipses Jordan in various statistical categories, the debate will only get hotter. As it turns out, you can count Jordan's most famous teammate as one who already might be leaning towards LeBron.
It's rare for a player from the 90s to dare say something noting anything in the current generation being better than theirs, and that is especially the case when it comes to Jordan. There's a near universal respect for Jordan as the greatest ever from players of that era — even a hint of fear still, all these years later — but Scottie Pippen, Jordan's sidekick for all six of his titles, isn't afraid to take a step back and note that LeBron is firmly in the conversation. Even further, Pippen isn't afraid to argue that LeBron might have surpassed His Airness.

Pippen's strong take on First Take nearly made Stephen A. Smith fall out of his chair and/or have his head explode as he yells "THE BLASPHEMY!" over and over. That reaction in and of itself makes this video worthwhile, and if Pippen said it just to mess with Stephen A. I would not hold it against him. However, Pippen makes the same points that so many in the Team LeBron camp do, pointing to James' overall dominance in nearly every statistical category as the thing that points in his favor (transcription via For The Win).
"The numbers don't lie. He's right there. He probably will never catch him in terms of MVP, but in terms of statistics, LeBron is right there. And when you look across the board — not just scoring — check his assists, check his rebounds, he's probably ahead of Jordan."
I'm not sure Scottie's going to be especially welcome at Jordan's next cookout, but it's somewhat refreshing to hear someone from that era at least acknowledge LeBron belongs in the conversation, even if it might be premature to say he's passed him.