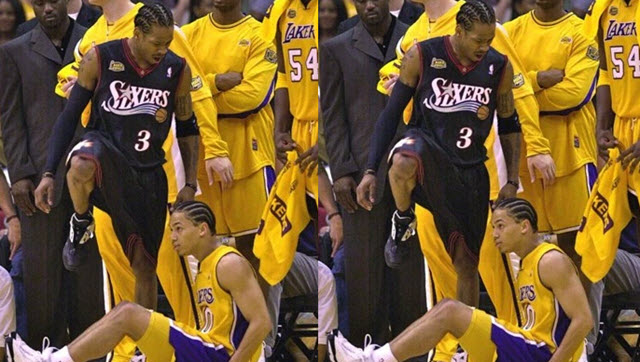 There is a lot to remember Allen Iverson for from his NBA career. What he wore on and off the court, his incredible scoring talent, and of course the Step Over.
During Game 1 of the 2001 NBA Finals between the 76ers and Lakers Iverson was dueling with Los Angeles' Tyronn Lue. The Lakers point guard started to chirp a little with Iverson after getting a couple steals and hitting a 3-pointer, but it was Iverson who had the final laugh with a moment that is now infamous in NBA history. Iverson dropped Lue to the ground with a step back, hit his shot, and then stepped over Lue before running back on defense.
On Sunday, two Seattle Seahawks players decided to commemorate this famous moment to celebrate a touchdown. Tyler Lockett scored a touchdown to give the Seahawks a 16-13 lead over the Panthers. Afterward, he gave his best A.I. impersonation with David Moore acting as Tyronn Lue. It was incredible.

Add this to the growing list of reasons why the NFL allowing group celebrations is the coolest thing it has ever done. So many current athletes grew up watching and idolizing Iverson so of course, they're going to find a way to incorporate him in some way. Even if it's an entirely different sport. Iverson just had that kind of impact on the culture of sports.