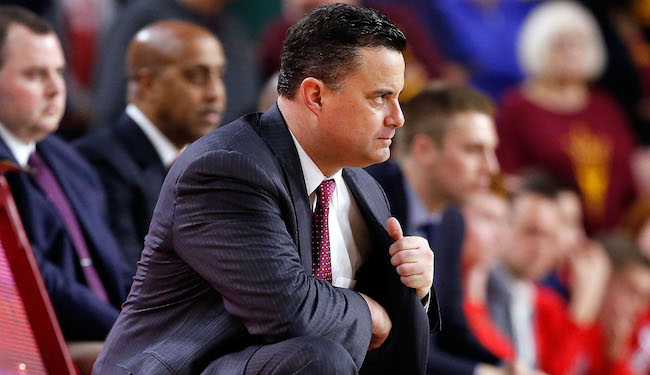 It has been almost six months since the FBI arrested four assistant basketball coaches in conjunction with a massive scandal and, earlier this week, documents emerged that implicated specific players in association with dollar amounts. However, Mark Schlabach of ESPN brings word of an explosive new layer to the investigation and it comes in conjunction with at least 3,000 hours of wiretapped telephone conversations.
The ESPN report indicates that Arizona head coach Sean Miller was recorded discussing a $100,000 payment to future NBA lottery pick DeAndre Ayton in an effort to secure his commitment. That reported conversation was with Christian Dawkins, a former employee of ASM Sports that has been widely implicated in the FBI's ongoing investigation.
This is likely the first nugget of many to come but, for Miller, it could be thoroughly damning. The Arizona program was implicated back in September when assistant Emanuel "Book" Richardson was arrested (along with three assistants from other programs).

On Oct. 3, Arizona president Robert C. Robbins said the following in a publicized statement.
Head coach Sean Miller has not been charged with—nor accused of—any misconduct and he has been fully cooperative and supportive of our efforts to determine the facts in pursuit of the truth. In a message that he shared with the community earlier today, Sean expressed his own devastation at the revelations last week and acknowledged his responsibility as the head coach to promote and reinforce a culture of compliance. Based on the facts that we know at this time, we support Coach Miller and intend to provide him with all of the tools necessary to meet our goals and expectations.
Richardson has been charged with six felonies in conjunction with the case but, with Miller now reportedly implicated directly, things become a lot messier for one of the biggest college basketball programs in the country.
Given the volume of conversations reportedly intercepted by FBI wiretaps, it seems wildly unlikely that Miller will be the only prominent head coach directly referenced in similar fashion. Still, the prominence of Ayton, who is widely expected to be a top-five pick in the upcoming draft, and the specific linking of a high-profile head coach to a dollar figure makes this an absolute bombshell in the college basketball world.