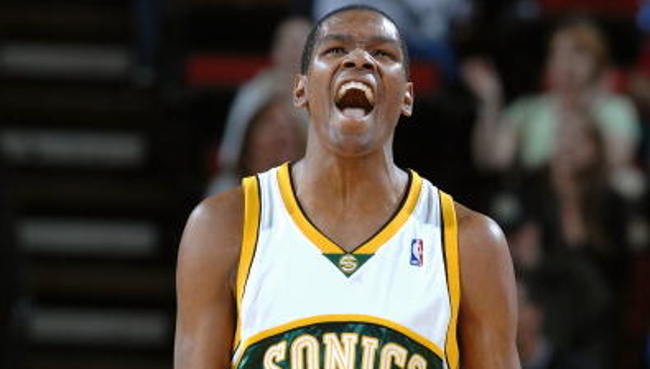 It's been 10 years since Seattle lost their NBA team to Oklahoma City. After a new ownership group failed to reach a deal to renovate or rebuild the crumbling Key Arena, the Supersonics would relocate to the heartland and rebrand themselves as the Thunder, taking with them a pair of burgeoning stars in Russell Westbrook and Kevin Durant and leaving behind a city filled with heartbroken hoops fans.
Much has happened since then, but one thing remains constant: the NBA has not returned to Seattle. That's about to change, albeit briefly.
According to a new report, it appears that the Golden State Warriors and Sacramento Kings are scheduled to play a preseason game in Seattle at the since-renovated Key Arena on Oct. 6, and though many fans will be thrilled to see the return of NBA basketball, it's an event that is sure to bring mixed emotions.
Via Ailene Voisin of The Sacramento Bee:
"I'm sure we will have conflicted feelings," said Adam Brown, co-producer of the 2009 award-winning "Sonicsgate" documentary. "There is a lot of baggage regarding the whole saga. But overall, if we can remove some of the emotion, this is a step in the right direction. Anything that involves NBA participation here is a positive thing. Durant coming back to a city where he won Rookie of the Year … the fans will totally welcome him back. Klay Thompson went to Washington State, and the Warriors play that up-and-down brand of basketball that we loved when we had Gary Payton and Shawn Kemp."
Various groups have been trying to bring the NBA back to Seattle, and one in particular came remarkably close a few years ago, only have to the league's board of governors narrowly vote down a measure to relocate the Kings there from Sacramento.
Still, the basketball-starved city will likely come out in droves to watch the NBA's best team and some of its brightest stars put on a show, even if it's for one night only. For Seattle, it'll be much more than a meaningless exhibition game.