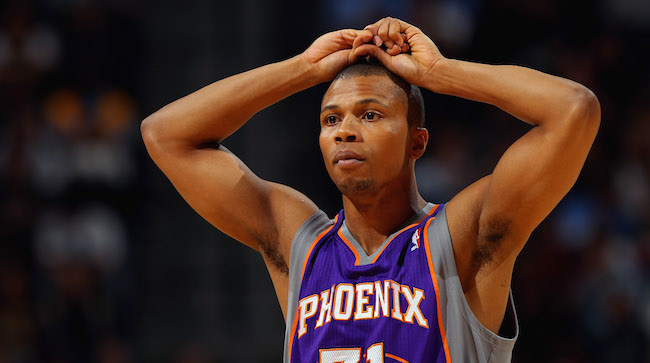 Former NBA player Sebastian Telfair, who was selected as a high school senior with the No. 13 overall pick in the 2004 draft by the Portland Trail Blazers, was reportedly arrested on Sunday in Brooklyn on gun possession-related charges. Telfair reportedly was arrested after police found loaded weapons and two bags of marijuana in his vehicle while he and another man, Jami Thomas, were parked illegally on the median on Atlantic Avenue.
NBC New York has more details on Telfair's arrest:
Telfair, 32, and another man, Jami Thomas, 18, were found with four loaded weapons, ammunition and a bullet-resistant vest, police said. Two bags of marijuana were also allegedly found in the 2017 Ford F-150 pickup.
…
As officers approached, they started to drive off, according to the source. Police who pulled them over smelled marijuana and saw a lit "blunt" on the dashboard, police said.
According to PIX11 in New York, Telfair was arrested and charged with criminal possession of a weapon, unlawful possession of a ballistic vest, criminal possession of a controlled substance and unlawful possession of ammunition. It's Telfair's second gun-related arrest, his first coming in 2007.
Here is a picture of the haul police took in from Telfair's vehicle:

Telfair last played in the NBA during the 2014-2015 season, when he suited up for the Oklahoma City Thunder for 16 games. Before Oklahoma City, Telfair also spent time with the Toronto Raptors, Los Angeles Clippers, Boston Celtics, Phoenix Suns, Minnesota Timberwolves and Trail Blazers.
Telfair, who is the cousin of Stephon Marbury, was one of the best players in the country as a high school senior and was highly touted when he decided to forgo college and enter the draft. But his skill set, which was so lethal at the high school level, never truly translated to the NBA and as evidenced by the number of teams he played for, Telfair's career will largely be remembered for his journeyman role off the bench at his various stops.