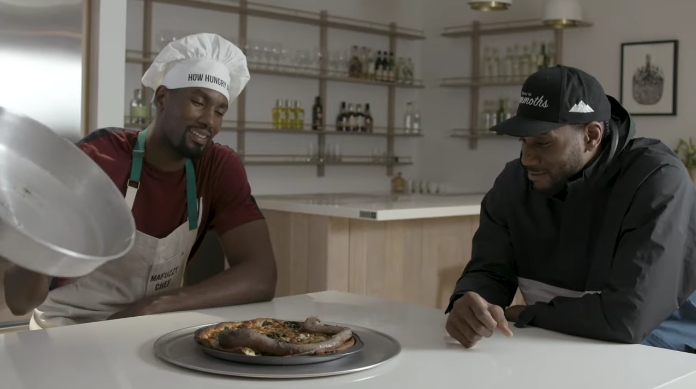 The Toronto Raptors are the No. 2 seed in the Eastern Conference entering the NBA Playoffs, and aren't far behind the Bucks on the odds sheet to make the Finals.
Two of the biggest reasons for their surge this season to near the top of the East are Kawhi Leonard, acquired this summer in a blockbuster trade, and Serge Ibaka, who is playing his best basketball in years. The two were once rivals in the West with the Thunder and Spurs, but formed a strong tandem in Toronto and have become pretty good friends.
That was clear in the latest episode of "How Hungry Are You?" as Ibaka, aka Mafuzzy Chef, welcomed Leonard to his home for some food, fun, and conversation. The entire episode is incredibly enjoyable, as it's a glimpse into a side of Leonard we rarely see, comfortable and joking around with Ibaka, who chose to serve Kawhi a beef penis pizza.

Ibaka always serves some strange food to his guests, and to Leonard's credit he says he came into it game to try whatever. Kawhi's main complaint about the beef penis is that it's not flavorful at all and has a bad texture.
As for the interview part, Kawhi opens up some about how he's felt about his time in Toronto, enjoying the diversity of the city and looking forward to seeing what summer is all about after years of Corey Joseph trying to get him to visit. Ibaka was also very interested in his celebrity crush, despite knowing Leonard has a girlfriend, which made for a pretty hilarious back and forth.
There was also the moment that's been teased for weeks where Ibaka asks him, point blank, if he's coming back, to which Leonard says he isn't sure and will make his decision after the season. Serge pressed him to no avail, but that's not a surprise. It would've been fairly amazing if Kawhi somehow made his announcement on "How Hungry Are You?" right before being served beef penis pizza, but alas, we'll have to wait for the summer for his decision.