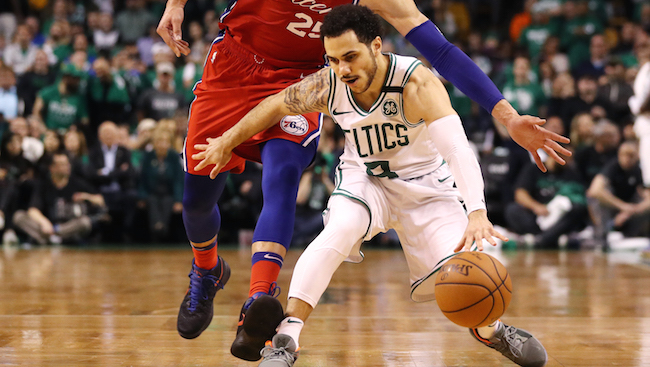 The Boston Celtics have had some awful injury luck this season, but despite being without their top two superstars and other players battling various injuries at the end of the season and beginning of the playoffs they still hold a 3-0 lead on the Sixers in the Eastern Conference Semifinals.
The Celtics looked to close out the series and earn some rest before the Eastern Conference Finals in Game 4 in Philadelphia on Monday night. They held a slim 23-22 advantage after the first quarter, but also saw their already slim point guard rotation take yet another hit as backup Shane Larkin went to the locker room.
Larkin was tasked with chasing J.J. Redick around the perimeter late in the first quarter when he ran into a hard Joel Embiid screen on a dribble-handoff that clearly caused some kind of injury to Larkin's left shoulder as he immediately grabbed at it and walked to the locker room.

Running into a set Embiid at that speed will result in quite the collision and Larkin's shoulder took the brunt of the force. For a Celtics team down its star point guard, losing Larkin, who has been the primary backup this postseason, would be a significant loss. The official update on Larkin was that he was questionable to return with a left shoulder injury, but there's no word on exactly what the injury is.
If Boston can get the Game 4 win, they'd earn some much needed rest to allow Larkin, Marcus Smart, Jaylen Brown, and others some time to heal from their various ailments they're playing through right now before a likely matchup with the Cavs in the conference finals.