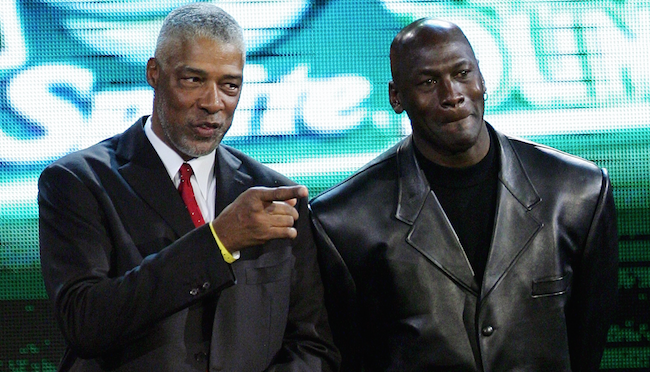 Remember when the most pointless argument in basketball used to be deciding between LeBron James and Kobe Bryant? Father Time has rendered that debate over; the Los Angeles Lakers legend is on the downside of his career, while the Cleveland Cavaliers star continues racking up the accolades.
Unfortunately, that reality has given rise to more inane, seemingly endless bickering regarding two all-time NBA greats: James and Michael Jordan. These absolutely futile talks just won't die, but at least it's not hard to see why. LeBron has done and continues to do things no player in league history ever has, begging the question of whether or not he has legitimate stake to Jordan's throne as the greatest player ever.
At least the consensus apparently agrees that verbal sparring is worth it. Shaquille O'Neal, however, has thrown a new name onto the G.O.A.T. fire – and it surely isn't one you're expecting. Here's The Big Diesel courtesy of Yahoo:
"I've seen young Mike and young LeBron and I must say Dr. J is still my favourite player," said O'Neal. "A lot of people today don't even mention his name but to me I still think he was the best. But these are questions that we'll never know the answer to."
What?
Just so you don't think we're not giving Julius Erving his proper due, it's prudent to mention that Dr. J's cultural impact on the game is almost unsurpassed. There's an argument to be made his all-encompassing influence is greater than anyone's but Jordan's. It's not like Erving's performance resumé lags far behind, either; his combined ABA and NBA accomplishments stack up well against all basketball stars.
The Doctor is a legend. But he's not James, and certainly isn't Jordan – let alone other luminaries who also have a real claim to the "best ever" distinction. And that's not an insult, either, but simply a reflection of just how amazing players like Jordan and James are compared to other no-doubt Hall 0f Famers. There's a reason the aforementioned debate always lingers.
As last month's All-Time Lakers versus All-Time Bulls discussion finally neared its end, O'Neal said he'd verbally spar with Scottie Pippen as long as it takes. "I have nothing to do," he remarked. Well, except finding more and more ways to artificially insert his name in the headlines.
Don't worry, folks. The 2015-16 season grows closer by the day.
[Via Yahoo]