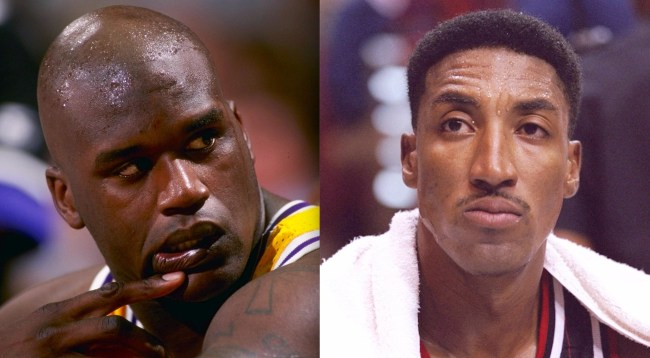 You thought last week's utterly inane social media tiff between Shaquille O'Neal and Scottie Pippen was over? No way. Like the rest of us, you simply underestimated how little the combative Los Angeles Lakers legend has to do during the basketball doldrums of late July.
It all started when O'Neal posted a photo of all-time Lakers and Chicago Bulls lineups on Instagram and included the incendiary caption of "we would beat em by fifty." Pippen was quick to respond, tagging O'Neal in a post featuring a photo of himself Michael Jordan with a message that read "all I know is we won 6 titles, twice the amount you claimed in LA." The big man came right back almost immediately, photoshopping Jordan's face over Pippen's with a quip about Puff Daddy and Mase. Then the Bulls' do-it-all forward cracked wise about O'Neal's free-throw shooting.
And yada, yada, yada.
Considering Pippen offered no public retort to O'Neal's last offering, we thought – "hoped" is probably a more accurate word choice, actually – this petty, completely arbitrary feud was done. But O'Neal couldn't help but get the last word in a second time.
Here's Shaq on the matter during Monday's episode of his weekly podcast, The Big Podcast with Shaq:
First of all, everybody has an opinion about who's the greatest team, blah, blah, blah. And it's okay to have an opinion!

It was the five best Lakers and the five best Bulls, and I said we'd beat 'em by 50. That's how I feel, and I'm sticking to it. I didn't say, "Hey, at Scottie Pippen, we'll beat you guys by 50. Hey, at [Dennis] Rodman, we'll beat you guys." I just said, "We'll beat you by 50." Now he made it personal when he said, "Oh, at Shaq. Hey, I don't believe in hypotheticals." So he swung first, and I'm gonna swing second and I'm gonna swing last.

Because I don't let bums disrespect me. He was a great player, but I'm the bridge, he's the water. He will always be under me. Every now and then he will rise to the occasion and get to the same level as the bridge, but when reality kicks in, I am bridge, he is water. He is under me.
Scottie Pippen can't disrespect me. So he comes at me, I'm coming back. And we can do this all day, 'cause I have nothing to do.
Thanks for clarifying that you "have nothing to do," Shaq. This ridiculous back-and-forth makes it seem like you're very, very busy these days.
[Via podcastone.com] [h/t r/nba]