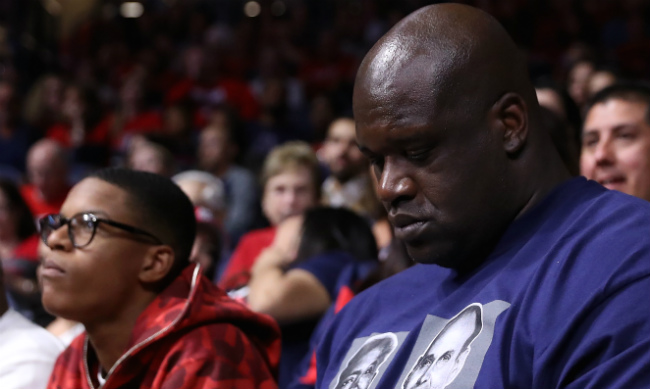 Being the son of the most dominant big man of the last 20 years probably comes with a ton of pressure. This is the issue that Shareef O'Neal faces. His dad is Shaquille O'Neal, meaning that whenever Shareef plays basketball, someone is invariably going to compare him to his Hall of Fame father.
But the thing is, Shareef seems to embrace the challenge that comes from being Shaq's son. It's worked out for him so far – the class of 2018 prospect is an Arizona commit and the No. 30 player in America, according to his 247Sports Composite rating. He is listed at 6'9, 204 pounds, and when Bleacher Report's Dave Schilling asked him which NBA players he is comparable to, he mentioned Kevin Durant, Karl-Anthony Towns, and Giannis Antetokounmpo.
Schilling also decided to ask him about the controversial Ball family and what it's like as an amateur baller with the spotlight on you. Because of his last name, Shareef understands what that's like and had this to say about handling that pressure.

"Lonzo Ball dominated high school," O'Neal said. "He dominated college. Now, it's even bigger, because he's going to the NBA. Everybody's waiting to see what he's gonna do on the floor. That's probably the biggest part of it, the pressure. The younger you are, the more pressure you have. The better you are, the more pressure. I have a lot of pressure because of the last name I have on my back. My dad is known as the best big man to ever live. That's a big accomplishment for him, but for me, it's a lot of pressure. When I was younger, I used to worry about being an NBA bust, but I know I'm not. I keep working hard to prove everybody wrong."
Bleacher Report followed that up by asking O'Neal about how he copes with the pressure, which led to Shareef mentioning that people go at him on the court because of his father.
Being the child of an all-time great is probably a cool and unique experience, but whenever you play the sport where they earned that title, you come under a certain level of public scrutiny. Fortunately for Arizona fans, Shareef O'Neal seems to embrace these high expectations.
(Via Bleacher Report)