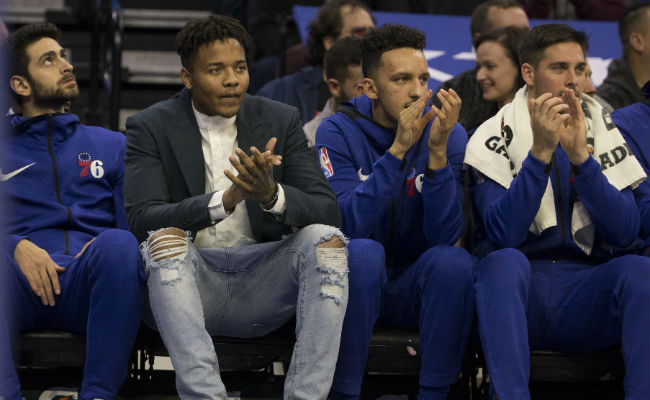 The problem with having an opinion on what's happening to Markelle Fultz in Philadelphia is that it's hard to know who to believe. Is a shoulder injury hampering him and his growth on the court? Has he forgotten how to shoot the basketball altogether? Is it mental, or have the Sixers handled the player so poorly that he will never be the same?
Philadelphia has a recent history of curious injuries to its rookies, but the Fultz saga may be the most curious. The first overall pick in the 2017 NBA Draft played just 14 games his rookie season after a shoulder injury apparently ruined his shot. He struggled all over the court, and his free throw shooting was particularly awkward.
Fultz has started 15 games and looks to be improving, but the arrival of Jimmy Butler has pushed him out of the starting lineup. Plus despite any forward progress, something still seems off about his game. He's averaging just 8.2 points per game and his free throw shooting is still awkward. No one seems to know what's actually wrong with him, and now there are reports that he'd like a fresh start.

The Philadelphia Enquirer's Keith Pompey reported on Saturday that Fultz's troubling start to his NBA career has been, perhaps unsurprisingly, impacted by a wide variety of things. But the biggest takeaway is that less than two years into his career, the Sixers are "considering" trading him and starting fresh.
That's a huge departure from trading up into the top spot to draft him out of Washington last summer, but there's considerable concern that he will never get over his shooting woes.
Some sources said Fultz is getting bad advice. They said anxiety that resulted from the advice — not a shoulder injury — has affected his shooting. Some observers said there is no hitch in his shot when Fultz is in a good place mentally. But his shot is a mess during stressful times.

If the 76ers have tired of this saga and are considering trading Fultz, and multiple sources said they are, his trade value must have declined a great deal since the start of the season.
Fultz has tried very hard not to show that his inability to shoot like he could in college is getting to him. He was even a good sport about Amari Cooper mimicking his shooting style to celebrate a touchdown on Thanksgiving. But whether that's a facade and he's truly dealing with the yips really seems unknown. The problem is that the Sixers are saying his shoulder is impacting him, but doctors can't find anything wrong with him.
The Sixers sent Fultz to several prominent doctors, but none of them found anything to prevent him from making shots. Sources have long said that Fultz's shooting woes were mental, that he had the yips and that the shoulder injury was not a factor.

Still, the Sixers maintained that Fultz's poor shooting was the result of his shoulder woes and later a scapular muscle imbalance.
Fultz's now-former trainer said earlier in the month that he's still hurt, but no one knows for sure, and if he's actually injured, why is he on the floor for a team that isn't currently starting him? It seems all the uncertainty is one of the reasons the Sixers are considering a trade, though perhaps they know it's likely they have missed the window to maximize a former first overall pick.
Pompey reported that some believe Fultz is "no longer in the Sixers' long-term plans," which of course is the sort of thing that can change at a moment's notice. If some around the situation are to be believed, the only person that can make Fultz's game right and change those plans is the guy struggling to shoot in the first place.