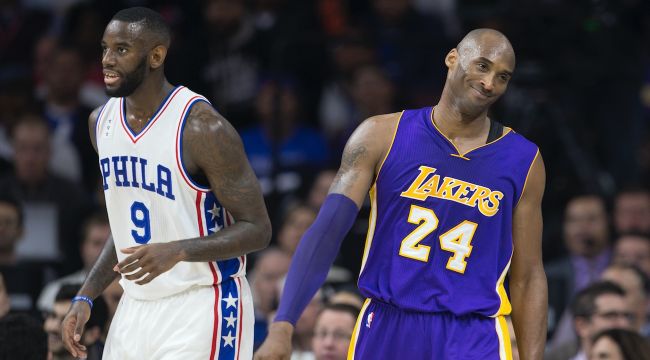 This should be about the Philadelphia 76ers. Brett Brown's team beat the Los Angeles Lakers 103-91 on Tuesday night, "failing" to set a record all its own by losing a 19th-consecutive game to open the season. Philadelphia tied the 0-18 start of the woeful 2009-10 Brooklyn Nets with a loss to the Memphis Grizzlies on Tuesday.
But despite something good finally happening for the Sixers, the story still shifts elsewhere. Such is life when your first win of the season comes on the initial leg of Kobe Bryant's farewell tour.
Playing in his hometown for the last time, the five-time champion scored 13 early points after being honored by the opposition during multiple and heartwarming pre-game ceremonies. Aside from a second half reverse layup that was vintage Mamba, though, Bryant couldn't keep up the pace he established in the game's first quarter.
The 37-year-old finished with 20 points on a dismal 7-of-26 from the field and 4-of-17 from beyond the arc. Needless to say, this wasn't the storybook ending to Bryant's time in Philadelphia that the game's beginning foretold.
There were bright spots for the Los Angeles Lakers overall, though. D'Angelo Russell flashed his elite passing ability and even dunked in traffic, while Julius Randle and Jordan Clarkson certainly had their moments, too.
But contributions of the Lakers' youngsters didn't quite stack up to those of the Sixers'. Robert Covington scored 23 points on just 16 shots for the victors, while Jerami Grant continued his eye-opening recent play with 14 points, seven rebounds, four assists and four blocks. Perhaps more importantly, Nerlens Noel played better than he has in weeks, notching 14 points and nine rebounds off the bench.
What happened immediately after the game, though? Chants of "KOBE! KOBE! KOBE!" Even when Philadelphia wins, attention drifts to the opposition. And as frustrating as that might be for the young Sixers, it's no doubt better than the alternative of yet another loss.