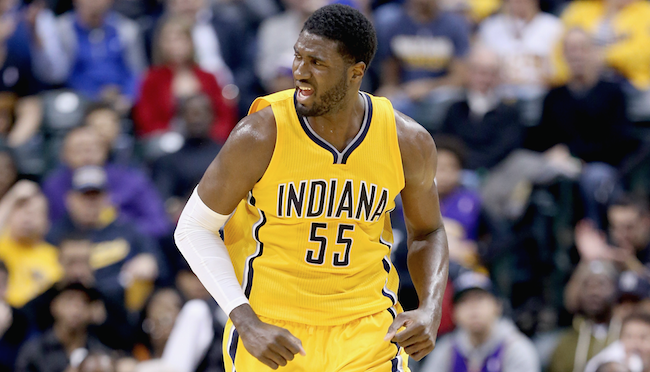 It's hard to pinpoint precisely when the NBA entered the space-and-pace era. Like all epochs, it was a gradual shift, until one day we woke up and suddenly every team around the league was hoisting three-pointers at a historic clip and traversing the court at a faster pace than ever before.
There are certain players who are clearly emblematic of the sea change, such as Steph Curry and James Harden. But this era is also notable for the players it rendered obsolete. One of the biggest casualties of that paradigm shift was Roy Hibbert, the former Pacers All-Star who went from celebrated defensive wunderkind to out of the league over the span of just a couple of seasons.
At 7'2, Hibbert was a prototypical center of a bygone era. He had a limited but passable post game and focused all of his effort on patrolling the paint. He's the genesis of the term "verticality," which was the only way we knew how to describe his uncanny ability to protect the rim without fouling his opponents.
But when a new generation of versatile big men descended on the league, Hibbert was not long for the NBA world. After his peak years in Indiana, he bounced around to the Lakers, Hornets, and Nuggets until he was out of the league by 2017. Now, it appears Hibbert has found his way back into the NBA, albeit this time in a coaching role with the Philadelphia 76ers.
The Philadelphia 76ers have hired nine-year NBA center Roy Hibbert — a two-time All-Star with Indiana — to a player development coaching role, league sources tell @TheAthleticNBA @Stadium.

— Shams Charania (@ShamsCharania) August 9, 2019
Hibbert will have a unique opportunity to tutor Joel Embiid on the defensive tactics that made him such a formidable force during his heyday with the Pacers. Though Embiid has shown that he's a defensive menace in Philly, a renewed focus on that end could spur him to take the next leap in his development.