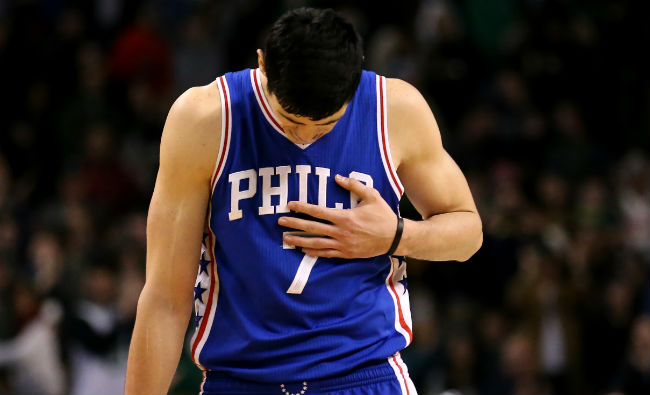 Ersan Ilyasova's personalized jersey collection is coming along nicely these days.
The Turkish Thunder reportedly got swapped for the fifth time in two years on Wednesday night as the Philadelphia 76ers moved him to the Atlanta Hawks for Tiago Splitter, a second round pick (from Miami) and a pick swap with other second rounders.
The move was also reported by Brian Windhorst, so it looks like this is a done deal. That means that—other than get traded—the most noteworthy thing Ilyasova did in a Sixers uniform is hilariously flop.

Depending on how you look at this, Ilyasova is either a hot commodity or not wanted as he is on to yet another new squad.
Ilyasova's epic transaction travels began on June 11, 2015 when the Milwaukee Bucks traded him to the Pistons for Caron Butler and Shawne Williams. Seven months later, Detroit shipped him out with Brandon Jennings to the Orlando Magic for Tobias Harris.
He finished out the season with Orlando before Oklahoma City came calling. Orlando boxed him up with Victor Oladipo and Domantas Sabonis in a trade that send the Magic Serge Ibaka.
It was a nice few months for Ilyasova in Oklahoma City. I'm sure he got an apartment and maybe bought some drapes or something before he was traded on November 1 of that same year. This time Olyasova was moved to Philadelphia for Jerami Grant and a top-20 protected 1st round pick.
He got to call Philly home for about four months before being shipped off to Atlanta. Poor guy is moving around so often it wouldn't be a shock if he was traded by the Hawks before the deadline was over, and if not, with his contract expiring after this season, he'll probably have to find a new NBA home this summer.