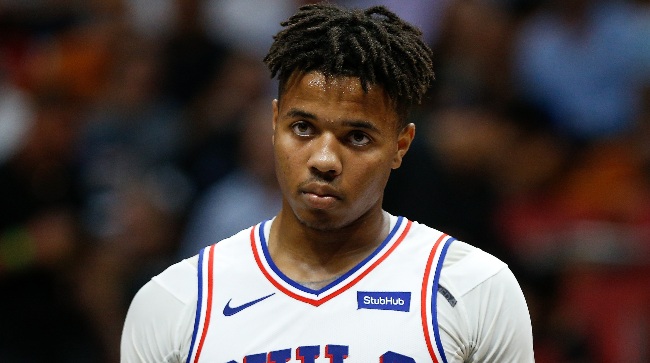 Trying to figure out exactly what the Philadelphia 76ers could get in a trade for Markelle Fultz is awfully hard. While there is the ongoing saga of his inability to consistently hit a jump shot, along with the fact that there are rumblings he'd like a fresh start outside of the City of Brotherly Love, Fultz is 18 months removed from being the no-doubt No. 1 pick in the NBA Draft, and if he can ever iron out the wrinkles in his game, he still oozes potential.
Reports have indicated there are teams, like the Detroit Pistons, that are kicking the tires on acquiring Fultz. As for how those talks are going, a report by Candace Buckner of the Washington Post revealed that the Sixers aren't moving with any haste.
Buckner reports in a new piece about the young guard that Philadelphia has taken calls about potentially moving calls, and every time they've popped up, they said no.
While the Sixers pledge to support their player in his recovery process, and are believed to have a relationship with Brothers and Fultz's inner circle, the organization has been protective in its own way. According to people in the league, the Sixers have rejected multiple trade offers for Fultz. It's not just that Philadelphia remains hopeful in getting Fultz on track to be a star in Philadelphia — much like prior top picks Ben Simmons and Embiid, who both missed their rookie seasons because of injuries. The Sixers have not received trade offers with what they believe to be equal value, a telling sign that indicates how other teams in the league view Fultz and the rocky start to his career.
It's an optimistic approach, both in that the Sixers think Fultz's value is higher than whatever other teams are offering and that they think this situation could draw parallels to the injuries that held Simmons and Embiid out at the beginning of their careers. While the latter is something no one knows, Philadelphia has an obvious internal asking price, and for other teams, it's all about negotiating and finding out exactly what that is.
Buckner also included details about Fultz's inner circle and some of the challenges that come with that, including one person saying his mother is "overprotective" and that "the best possible situation is if the mom just backs off for a period of time and gives him a chance to breathe."
To illustrate this, a detail was included about how Fultz's mother, Ebony, installed cameras in his home during his first season as a pro.
Fultz is now a professional on a four-year contract worth $33 million, but close associates said Ebony still goes to great lengths to shield him. During Fultz's first season in Philadelphia, Ebony had cameras installed inside his New Jersey home, according to several people familiar with the setup who described the indoor surveillance as unusual. The cameras have since been removed. Multiple people said Ebony has asked some who have dealt with Fultz to sign nondisclosure agreements for reasons that are unclear to them.
Every story that comes out about Fultz seems to add to the mystery about his current situation, and this is no exception. As always, the hope is that whatever is preventing him from reaching his potential fixes itself, and sometime in the near future, we see Markelle Fultz operating at 100 percent, reminding everyone that he has what it takes to be a special basketball player.
(Via Washington Post)