His lanky body pinned underneath a wall, Skal Labissiere was aware what had happened. He'd been in earthquakes before, but he still didn't believe it. One minute, the 13-year-old was washing up for dinner after basketball practice. The next, his house had imploded on Skal, his mother and his brother during the 2010 earthquake that devastated Haiti.
Dazed and disoriented, he thought at first that the whole thing was a dream. Then he felt the pain in his legs and heard the cries for help from his family and neighbors.
"Once you realize it's real, it's very scary," Skal told DIME in a phone interview on Sunday. "Everyone's freaking out. You think you're about to die."
Luckily, his father was outside the house when the quake hit. It took a few hours to sift through the rubble, but he and some neighbors painstakingly dug out Skal and the rest of the family. Their home was ruined, but he always knew how fortunate he was: Hundreds of thousands of people died, and many more were badly injured.
Skal didn't escape unscathed. Having been trapped in an awkward position for hours, he couldn't walk for a couple weeks, and he limped for quite a while after that. His spirit, though, was never broken; the whole time he worked to regain feeling in his legs, he held a basketball in his hands. Mere months later, with his parents finally offering their blessing, he was on his way to Memphis to play varsity ball as an eighth-grader — and to learn English.
"It was always my dream," he said, "and I never really gave up on that dream."
So much of the NBA Draft is predicated on upside potential, what someone might do in the future. That said, isn't someone's past experience just as instructive? With a lean 220 pounds on his 6-foot-11 frame, teams have gone out of their way to rough up Skal in workouts to see how he handles it. But no hard foul could possibly match the distance to here.
"People sometimes say, 'Oh, he's not tough enough,'" Skal said. "I don't know about all of the other players in the Draft, but I don't think people had to go through what I went through.
"I honestly think I'm one of the toughest players in the Draft, if not the toughest."
Growing up, Skal was a decent soccer player who literally outgrew the sport by the time he was 12. So his mom suggested he take up hoops. He switched role models from Ronaldinho to Kobe Bryant, began practicing with his brother and — much like Kobe — found that his soccer background helped him pick up complicated footwork quickly.
Given that his dominant high-school career earned him the No. 2 ranking behind Ben Simmons, Labissiere's year at Kentucky wasn't what he expected it to be. It took him time to get used to the speed of the college game, and he found he didn't have the requisite strength to exploit his talent advantage in the post. With John Calipari providing a constant dose of tough love, however, he showed flashes of putting it all together, even outplaying Simmons in a late-season win over LSU.
"I think people have developed a mindset that every highly ranked high school player will come in and dominate like a Kevin Durant or a Jahlil Okafor," said Jarrel Harris, a digital producer for Sports Illustrated and former DIME scribe. "Skal lost his confidence early on, but we saw an improvement as the season came to a close. Under the right NBA training program, he will continue to build strength and fill out. If he showcases an ability to stretch the floor and become patient on the defensive end, the sky is the limit for him."
Skal runs the floor like few people his size and has a great feel for the basket. He's developed an impressive midrange jumper that extends out to three-point range, and he's a skilled shot blocker. All of this has him on track for the mid-to-late lottery, with many citing Orlando a good fit at 11.
Skal Labissiere practicing for NBA 3-point contest. Kid has a silky jumper pic.twitter.com/YWVpAdvXMF

— Chad Ford (@chadfordinsider) May 12, 2016
"I felt like I did really well in my workouts — I shot the ball well, showed my post moves," Labissiere said. "I've been working on every aspect of my game, and I've definitely gotten stronger since I left college. You only have to focus on basketball, and that's what I've always wanted."
But can he be cutthroat enough to become a star in a dog-eat-dog league?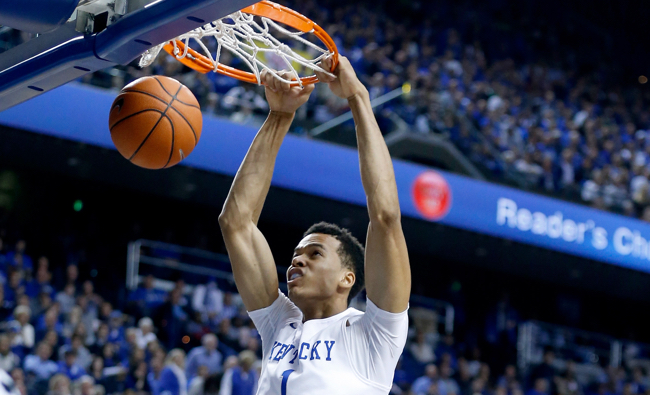 If you talk to Skal for even five minutes, you'll realize he's an extremely nice guy. He's constantly smiling, he's exceedingly polite and he punctuates nearly every sentence with an infectious laugh.
This is not to say you can't be both a good guy and a good basketball player, but even relative choirboys like Stephen Curry have a cold-blooded streak when it comes to dealing a death blow. Which brings us to the key question with Skal: When you get down to brass tacks, does he have the requisite killer instinct to take full advantage of his impressive skill set?
"I definitely do," Skal insisted. "I have it. I do." But then, there's that laugh again.
The thing is, though, I actually believe him: Skal has worked too hard and come too far to not go after the brass ring. When he shakes Adam Silver's hand on Thursday, his parents and beloved guardian Gerald Hamilton will root him on from the Green Room, serving as a reminder of their faith in him. And he plans someday to go back to Haiti to help out and be a source of inspiration for the kids there.
With that sort of motivation — and a healthy dose of belief in his own abilities — one can only hope that good things will happen to this very good person.
"I really believe that in the next three years, as I get stronger and bigger, I can be the best player in this Draft," Skal said. "I take pride in being a great teammate, a very coachable kid who's ready to do whatever it takes to win.
"And," he added this time without his trademark laugh, "I'm a tough kid."