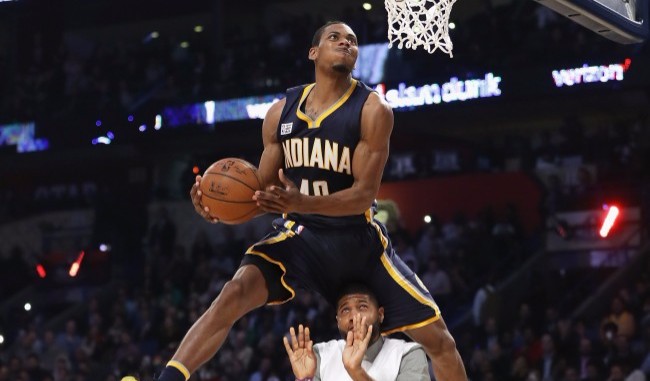 NBA All-Star Saturday Night is always a full-on spectacle for the basketball world, and the 2017 edition was no different. The evening began with Kristaps Porzingis putting on a unicorn-like show in the Skills Challenge and, in short order, Eric Gordon dethroned Klay Thompson to take home the title in the three-point contest. In addition, the TNT crew joined forces with some of the league's best players to honor Craig Sager and raise a great deal of money in the process.
However, the night is always punctuated by the high-flying action of the dunk contest and there were plenty of moments to remember.
5) Aaron Gordon gets an assist from a drone
Aaron Gordon was the prohibitive favorite entering the night, but in short, his performance fell flat. His sub-par showing could easily (and rightly) be blamed on less than 100 percent health, but Gordon did contribute a moment to remember on his first dunk.
Yes, the actual finish was not mesmerizing by any means, but it was entertaining to see him operate a drone while actively participating in an NBA event. With a better pass, the dunk probably would have been better.
4) DeAndre Jordan leaps over DJ Khaled and a DJ table
Much like Gordon's drone usage, this dunk wasn't quite as impressive as the pageantry would indicate. Still, it was DeAndre Jordan taking full advantage of his initials and bringing out a legitimate celebrity in DJ Khaled.
It is very easy to forget that Jordan is a legitimate seven-footer with explosive leaping ability like very few players in NBA history, but he sent a reminder here.
Oh, and DJ Khaled captured the entire thing on Snapchat. That has to be mentioned.
3) Glenn Robinson III slams the door with a 50-point dagger
The winner of the contest itself makes his first appearance, and it comes with the slam that put the victory away. Robinson III needed a solid effort in order to take the title away from Derrick Jones Jr. on the second dunk of the final round and, in short, he did much more than that. There is some debate (we'll get there) as to whether his final effort was the best of the night, but Robinson III made it look very easy and that just shouldn't happen when elevating beyond three grown human beings while finishing a breathtaking reverse dunk.
Let's just say he earned some additional screen time.
2) Glenn Robinson III opens the night in style
It wasn't the very first dunk of the evening, but Robinson III's first attempt doubled as the night's first 50-point score. There was also no debate about whether the score was justified.
Robinson III took a cue from past contestants in putting on a bit of an acting job at the outset, pushing a couple of pump fakes while rearranging human props. When everything was finally in place, though, he calmly levitated above two people (one on the other's shoulders) and put together a dunk that presented a high degree of difficulty.
Was it on the pantheon for greatest dunks of all-time? Absolutely not. With that said, it was highly impressive that Robinson III was able to bring the ball down that low while smoothly slamming it home with his off-hand. It was a big-time showing.
1) Derrick Jones Jr. reminds everyone why he was the pre-contest sleeper
If this was a six-moment list, Jones' second dunk probably would have made the cut but he'll have to settle for "only" the top spot instead. The Phoenix Suns rookie entered as a popular darkhorse pick in the event, simply because he is a dunking specialist that definitely possesses the athletic tools to put on a show under the brightest lights. While he simply wasn't consistent enough to grab the title away from Robinson III, it was plain to see why Jones Jr. was so hotly anticipated and this dunk proved it.
The ease by which he whipped the ball through his legs before powerfully throwing it down was incredible and Jones Jr. looked to be well on his way to the title once this 50-point dunk propelled him to the final round. That, quite obviously, did not come to be but it wasn't for a lack of tools. When judging the single best slam of the evening, Jones Jr. sits at the top of the list by a fairly decisive margin. He's just that scary athletic.
It is probably (quite) fair to suggest that the 2016 battle between Zach LaVine and Aaron Gordon set a bar too high to reach for the 2017 edition. Still, there were plenty of noteworthy occurrences in New Orleans on Saturday night and the dunk contest slammed the door shut on an entertaining evening of basketball exhibitions.