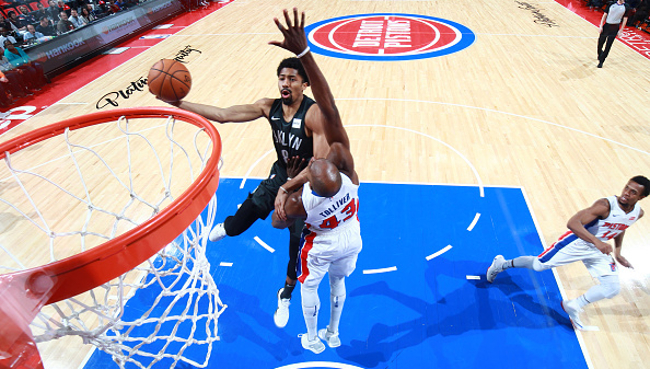 Spencer Dinwiddie has one of the best names in the NBA, and with that name combined with his amazing hair makes it look like he was brought here in a time machine from circa 1970s ABA.
Beyond that, the fourth-year pro out of Colorado has some serious game, emerging as a quality NBA player as he's been thrust into a bigger role with the injuries to Jeremy Lin and D'Angelo Russell. On Sunday afternoon against the Pistons in Detroit, he put the full repertoire on display, scoring 22 points and sinking the game-winner to give the Nets a 101-100 victory.
With less than five seconds remaining, the Nets inbounded the ball to Dinwiddie, who drove into the lane, shook off his defender, then somehow made a tough double-pump jumper over the outstretched arms of Andre Drummond to seal the victory.
Dinwiddie's 22 points led the way for Brooklyn, and he did it on efficient 9-of-13 shooting from the field, including a red-hot 4-of-6 from behind the arc, to go along with five assists and four rebounds. Rondae Hollis-Jefferson added 21 points, eight boards, and seven dimes on the afternoon for the Nets to give the Pistons their fifth consecutive loss.
With Dinwiddie's game-winner, he added his name to some of the league's most elite performers in the clutch so far this season.
Up next, the Nets will continue their five-game road trip as they travel to Oklahoma City to take on Thunder on Tuesday.