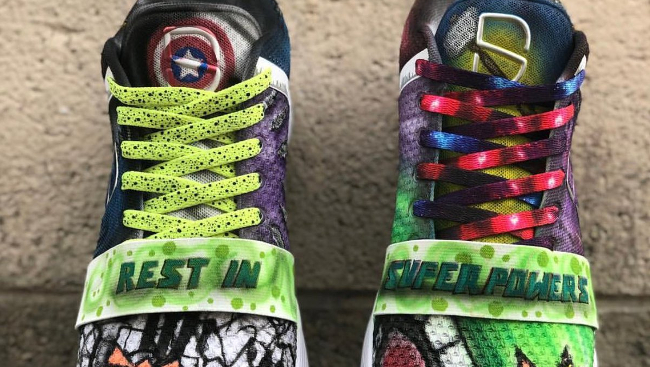 Earlier this week, groundbreaking comic book writer Stan Lee died at the age of 95. Lee was a writer, editor and publisher whose career spanned nearly seven decades and was responsible for co-creating numerous superhero characters in the Marvel Universe such as Spiderman, Black Panther, the X-Men, Iron Man, Thor and endless more.
His Marvel characters have dominated the film and television industry in recent years as their popularity has soared to an all-time high. Celebrities and everyday fans around the world took to social media to grieve his passing this week and pay tribute to the indelible impact his work has left behind on pop culture.
On Wednesday, Nets guard Spencer Dinwiddie joined those ranks when wore these custom-made sneakers designed with Marvel comic book iconography for the Nets game against the Heat in Brooklyn.

The bright multi-colorway out-soles feature images of Lee wearing his trademark shades with a halo over his head, along with the Captain America crest on one tongue and onomatopoetic fight phrases decorating the toes. It's a great way for Dinwiddie, who is clearly a big fan, to pay homage to a visionary artist and collaborator whose lasting legacy is now so steeped in our cultural consciousness.