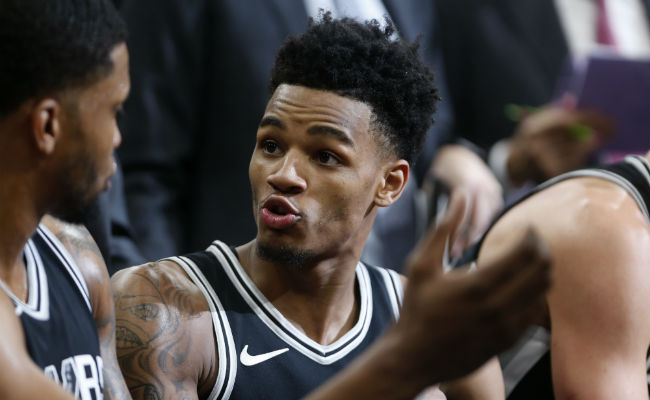 The Spurs guard rotation took a huge hit on Monday when it was announced that Dejounte Murray had suffered a torn ACL in his right knee. Murray's injury occurred in a preseason game against the Rockets and it was announced shortly afterward that he would need an MRI.
Everybody figured the injury report wouldn't be good, but there's always hope that the injury would be a hyperextension or even a sprain. An ACL tear really does feel like the worst case scenario, but it was reported on Monday that Murray did, indeed, suffer the tear.
The ACL tear was later confirmed by another reporter, and shortly after that the Spurs themselves updated their injury report on Murray.

There is currently no reported timetable for when he might return to the San Antonio lineup. Typically though these injuries take close to a year to recover so it's unlikely that the Spurs will be seeing Murray again this season.
Murray's knee injury comes shortly after it was announced that Spurs rookie guard, Lonnie Walker, would miss six to eight weeks with a knee injury himself. Murray was expected to be the starting point guard this season, but now it looks like Patty Mills or maybe Derrick White will be thrust into that role.
Luckily for San Antonio, they have a system that works and can handle adversity. Gregg Popovich even said as much to reporters when they asked him about the injury.
"Devastating injury for him. For the team," Popovich told reporters. "But life goes on, everybody will pick up. We'll just do the best job we can to carry forward without him."
Murray broke out for San Antonio last season and started 48 games. He played incredibly well in 21.5 minutes per game and averaged 8.1 points, 5.7 rebounds, and 2.9 assists per game. There was an expectation for him to make a jump as he entered his third year with a potentially larger role. Now he has to take an unfortunate step backward and recover from a serious injury.