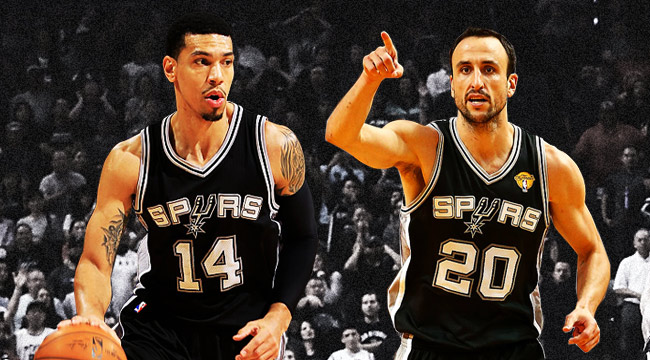 When Kawhi Leonard exited Game 5 between the San Antonio Spurs and Houston Rockets with 34 seconds remaining in regulation, it felt as if a death blow had been struck for the home team. Then, moments later, Leonard's absence as a result of an ankle injury felt doubly important, as a Patty Mills game-winner was waved off after being released after the buzzer.
That hiccup prompted the reality of a five-minute overtime period without the best player available for San Antonio, but in true Spurs-ian fashion, the role players erupted and the favorites were able to escape with what seemed like a heist of a victory.
Earlier in the evening, Manu Ginobili made it (quite) clear that he wasn't ready to go quietly into the night.
And, later, the ageless veteran wrapped his performance in a pretty bow with a massive defensive play on the final sequence of the evening.
In between, though, the quartet of Ginobili, Patty Mills, Danny Green and Jonathan Simmons were incredible for the Spurs and that was enough to push the team to victory. Ginobili finished the game with 12 points, seven rebounds and five assists in an astounding 32 minutes of action, and the Spurs were +8 during that time period. San Antonio desperately needed his creation off the dribble at times and he was, at the very least, a steadying force that seemed to rise to the occasion at the most important stages of the night.
Elsewhere, Simmons contributed perhaps the most important performance of his still-young career. Gregg Popovich looked in his direction to the tune of 32 minutes, and while Simmons was just 5 of 14 from the floor, his defense was incredibly valuable (especially against James Harden in overtime). He also provided an athletic spark on both ends.
The heavy hitters in terms of production were Mills and Green, though, and that was oddly fitting. Mills was the "easy" choice for a player who would step up in the absence of an injured Tony Parker and, in short, the former St. Mary's guard is going to make quite a bit of money this summer. Mills finished the night with 20 points (including five threes) and four assists in 43 minutes and he was the only "true" point guard to see the floor for San Antonio.
There is very little about his game that could be described as flashy, but Mills is a strong member of the second tier of point guards in the NBA and more than a few teams would be lucky to have him as a starter moving forward.


As for Green, it was an up and down evening that crested at a perfect time. The 3-and-D wing outscored the Rockets 7-to-6 in the overtime period, knocking down a massive three-pointer from well beyond the arc and converting an off-the-dribble three-point play seconds later. The latter of those exercises was a rare sight for him, but at the very least, the Spurs can always rely on him for strong defense. Green finished with 16 points, five rebounds and three assists for his trouble.
Can the Spurs win full games in this series without elite-level production from Kawhi Leonard? Probably not, but they managed to stay afloat over a very short time period in Game 5 and that could be the pivot point in an otherwise even series. It has to be noted that the Rockets, based on their explosiveness, are certainly capable of flipping the script in a hurry.
With that said, Game 5 served as a reminder that San Antonio's sometimes maligned supporting cast is also capable of big things and undervalued contributors like Danny Green, Patty Mills, Jonathan Simmons, and even Manu Ginobili can conspire to lead the "favorites" to a victory that felt something like an upset.