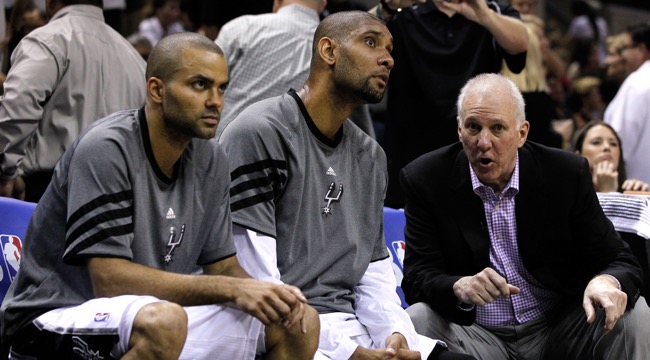 This feels so odd. For years, the Spurs have remained silent as the NBA's annual free agency bonanza in July sends executives, players, fans and journalists on a topsy-turvy swivet of speculation and innuendo. But with Tim Duncan four years into his swan song, Tony Parker looking slower with each passing summer, and Gregg Popovich turning to newer players to carry the load, they're finally looking to make a plunge in free agency this summer.
And the player they've got their eye on, LaMarcus Aldridge, is a likely candidate to sign.
But rather than send him to the Alamo and show him where Ozzy pissed on the wall, Marc J. Spears of Yahoo reports Duncan, Parker and Popovich will be in Los Angeles on Wednesday to show Aldridge what it's like to play for a dynasty that's currently close to 17 years in the running.
Tony is even flying from China to L.A. to attend, and Duncan's appearance is the first time he's ever traveled to persuade a fellow player to sign. He attended San Antonio's free agency pitch to Jason Kidd in 2006, but for LMA, he's traveling and taking another pay cut.
The news is also a pretty clear indication that Duncan will be back for his 19th season this fall, even though he hasn't made the news official.
While the Lakers, Rockets, Mavericks, Raptors and Suns are all lining up to pitch Aldridge on their teams, sources tell Spears the Spurs are the front-runners, like they were at the end of the season.
Aldridge forces opposing bigs to leave the paint and defend the mid-range jumpers he's made four all-star teams knocking down. That ability would be a valuable weapon in a Spurs arsenal predicated on spacing and ball movement. No wonder the big guns are flying west to talk with him.
But remember, San Antonio has another big name player they've already won a title with, and they'll need to lock him up, too, if they'll have any chance of continuing their winning ways. A Klaw-Aldridge duo would cushion the loss of Duncan when he finally decides to retire, but they have to sign him first. with almost a fifth of the NBA looking to add LMA this summer, it's no sure thing he returns to his native state, even if the Spurs are the favorites.
(Yahoo)