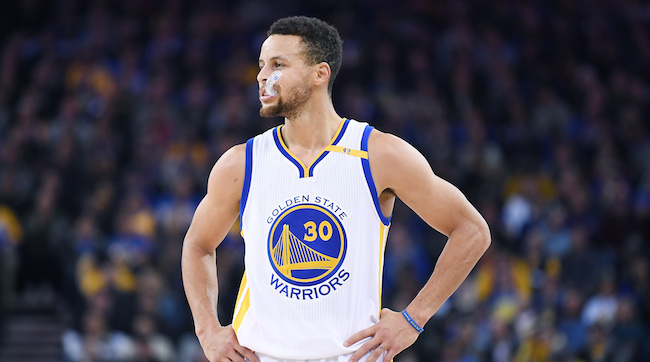 Steph Curry rarely speaks strongly on political issues, but on Wednesday he offered his thoughts on Donald Trump at the prompting of Marcus Thompson of the Bay Area News Group in response to comments from Under Armour CEO Kevin Plank this week that Trump was "an asset."
Under Armour CEO Kevin Plank, in an interview with CNBC, said President Donald Trump is an "asset" to the country.

"I agree with that description," Curry said, "if you remove the 'et.'"
It's as strong of a political stance as we've heard from the two-time MVP in his time in the league. While LeBron James, Carmelo Anthony and other veterans have become more vocal in their political beliefs and feelings towards social issues, Curry has largely kept quiet and chosen to release relatively vague statements that will do their best not to offend anyone. However, it's clear here that he's starting to become more comfortable speaking out — which probably coincides with him solidifying himself as one of the league's most popular stars.
Curry elaborated that he's been in contact with Plank and Under Armour about the comments, and that he's been assured that Plank was only speaking in business terms, not about social or policy issues. Curry told Thompson that he believes Under Armour still stands for the same things he does from a perspective of creating social change, but said if he feels that changes he wouldn't hesitate to leave the company.

"It's a fine line but it's about how we're operating, how inclusive we are, what we stand for," Curry said to Thompson. "He's the President. There are going to be people that are tied to them. But are we promoting change? Are we doing things that are going to look out for everybody? And not being so self-serving that it's only about making money, selling shoes, doing this and that. That's not the priority. It's about changing lives. I think we can continue to do that…

"If I can say the leadership is not in line with my core values, then there is no amount of money, there is no platform I wouldn't jump off if it wasn't in line with who I am. So that's a decision I will make every single day when I wake up. If something is not in line with what I'm about, then, yeah, I definitely need to take a stance in that respect."
It's a strong statement from Curry and one that certainly will resonate with the people high up at Under Armour. Curry is the face of their basketball brand, and he's been a huge reason they've become one of the prominent basketball shoe brands behind Nike and adidas. However, Plank and others at Under Armour have to consider the implications of supporting Trump publicly, especially considering how many people in the NBA have spoken out publicly against Trump policies.
Plank may have been speaking about Trump being a positive for businesses, but any support of Trump in any fashion is difficult to separate from support of Trump's other policies that have gotten heavy backlash. In the shoe business and NBA business, support of Trump in any manner is not going to go over especially well and losing that audience or any of their superstars because of it would be very bad for Under Armour.