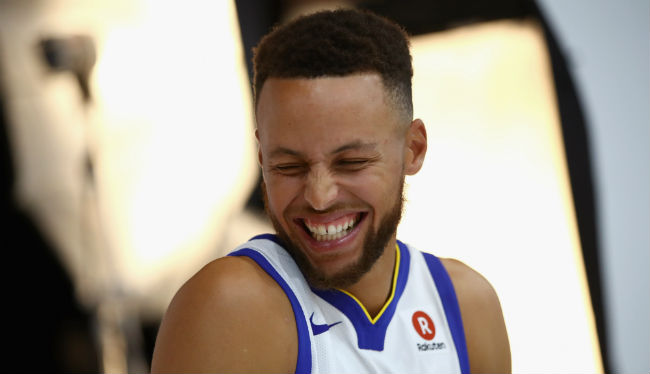 Stephen Curry and his wife Ayesha are one of the NBA's most public couples. And with that public attention comes a lot of public knowledge about the two of them.
But there are things about couples that outsiders can never know until they spill the beans and reveal it for themselves. How these secrets get out is always different, but in the case of the Currys, Ayesha picked national television to tell everyone that Steph is all about the feets.
Ayesha appeared on an episode of The Real on Friday, and things indeed did get real during a game of "Cellphone Roulette." Curry is asked to show "an unusual picture" on her phone, and at first she seems a bit nervous about the whole thing.
"I think this is good," Curry then said, revealing a top-down picture of her feet while she's standing near a wall.
The panel seems a bit confused by the whole thing, until Curry explains that this is part of her very famous husband's foot fetish.
"My husband really loves my feet," Ayesha said. "And the light was hitting them just right that day and so I said 'let me just snap this photo and send him a picture of my feet.'"
Oh.
Curry went on to explain that this isn't the only time she's sending feet pics to the highest-paid guard on the Golden State Warriors.
"So, when he says to send nudes, that's what he's getting," Curry continued. "He gets a picture of my bare feet."
Uh, OK.
First of all no one is here to judge. These are consenting adults and daytime television should be a safe space with which to express yourself however you choose. But couldn't Curry just ask for feet pictures instead of asking for "nudes?" He clearly seems into this, but I feel like maybe everyone involved here can be more specific.
Curry knew this would get out of hand, though. Or out of feet, if you will.
"He's going to kill me," Curry said, realizing that perhaps she should not have revealed this about one of the NBA's most visible players.
Ayesha did say on Twitter later Friday that it was a "joke."
But it's too late now. The shoes are out of the box. The feet are out of the socks. It's time to let this story breathe a bit. After all, the lighting is so nice right now.