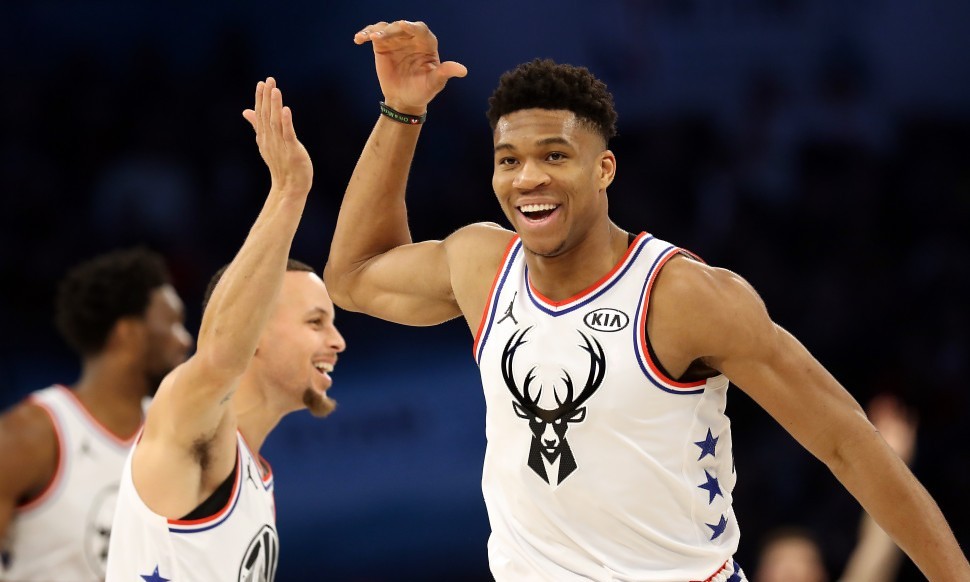 Team LeBron, unsurprisingly, emerged as the victors over Team Giannis on Sunday night in Charlotte, winning the 68th NBA All-Star Game by a 178-164 margin.
Most expected that outcome given the makeup of the two teams, but it required a 20-point comeback and despite Kevin Durant's MVP-worthy performance the biggest highlights of the night came from Team Giannis. While many questioned Antetokounmpo's draft strategy, he nailed his first pick with Stephen Curry and the two put on quite the show for the Charlotte crowd.
The All-Star Game is often a disjointed contest in which teams of players that have often never played together are simply trying to stay on close to the same page. That style of play often highlights players that have tremendous chemistry, whether because they've played together or because they simply fit so well on the court that they can't help but have a connection.
In 2014, that was apparent with Kyrie Irving and LeBron James (Kyrie looked similarly comfortable with Kevin Durant this year sparking plenty of speculation), and on Sunday it was Steph and Giannis that fit perfectly together to create the best plays of the night. The one that had the basketball world buzzing was Curry's bounce pass alley-oop to Antetokounmpo that stunned pretty much everyone, as it looked like there was almost no chance as the ball bounced 15 feet in the air that anyone would be capable of finishing that lob.

However, that wasn't the only time that duo found themselves connecting for a basket and, while I'm always hesitant to take much in the way of actual basketball analysis away from an All-Star Game, it was apparent that those two together on the same team creates the perfect basketball duo.
We've seen this season that Giannis' game has been opened up to a sustainable MVP level by a new system from Mike Budenholzer that spreads the floor around him, creating immense space for him to operate 1-on-1 and attack the basket, which he's been unbelievably efficient and effective at. Curry is the best shooter in the world and applies pressure from the three-point line and back that no one else has ever has on a defense. That simple combination makes sense as to why they would work wonderfully together — along with the fact that they are two of the five best players in the world — but it goes beyond that.
The two together seem to be perfectly suited to bring out the most in the other. Curry currently plays with one of the greatest scorers in NBA history in Durant, and while they've won two championships and have obviously experienced tremendous on court success, it's come at the expense of Curry's creativity to an extent.
Durant is one of the best isolation players in the NBA, along with Kyrie Irving, LeBron James (when he's healthy/wants to) and James Harden, and that has worked fantastically in Golden State. However, to allow Durant to cook, the proverbial knife has to be taken away from Chef Curry, who has been willingly deferential at many key moments. Antetokounmpo, who is also a dominant one-on-one player, however, is much more adept and willing to play off the ball and seems to bring out more of the creativity from Curry with his rim runs off the ball.
The bounce pass wasn't the only effort from Curry to try a ludicrous alley-oop to Giannis in the All-Star Game, as he also had a behind the back effort that wasn't far off either and, likewise, would've sent fans into a frenzy. Curry's creativity on the ball is on par with the absolute best, and with Giannis it seems that is completely available to him. That's not to say they'd be throwing bounce pass or behind the back lobs in actual games, but the pressure that can be applied to a defense in a Curry-Giannis pick-and-roll and with Antetokounmpo cutting off the ball would allow for Steph to open his full bag of tricks with the space that would be created for both of them.
With Curry locked up on a new max deal in Golden State and Giannis heading to his own max in Milwaukee with the Bucks trending towards being a contender in the East, we'll almost assuredly never see the two team up on an actual NBA. It's a shame, because in an era of stars pairing with other stars, you'd be hard pressed to create a more perfect combination than those two. Let's just hope they recognize this and whenever able link up at the All-Star game, because it brings some much-needed life to the party.