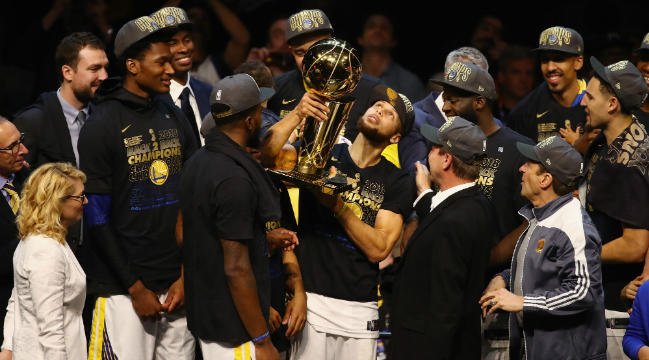 When the clock hit zero on Friday night in Cleveland, most of the fans at Quicken Loans Arena were left standing in silence. That's because for the second year in a row and the third time in four years, the Golden State Warriors knocked off the Cavaliers to win an NBA championship.
It's quite the achievement for Golden State, and because basketball fans are perpetually interested in looking at things in the big-picture sense, the debate now exists about whether this Warriors squad should be considered a dynasty. Considering their three rings and their regular season dominance, they have a pretty good argument for being on one of the best runs ever.
To get some insight into this debate from the perspective of Golden State's leader, Steph Curry was asked about whether the Warriors are, indeed, a dynasty. But instead of a straight answer, Curry let it be known that he wants others to have that conversation.

"No idea, not for me to answer that question," Curry said. "I just know what we've been able to accomplish is really meaningful and something that not many players have been able to experience. Wherever that puts us in the conversation in the history of the NBA or titles around dynasty and all that type of stuff, I'm a three-time champ, we've got a lot of three-time, two-time champs in there, and we'll have plenty of time in our lives to discuss that later. We wanna keep this thing going as long as we can."
Unless a team has a UConn women's basketball-esque stretch of dominance, it can be hard to identify if it's a dynasty while it's happening. Plus the Warriors have the weird quirk that this group wasn't together for the whole thing, as adding Kevin Durant is something that Scottie Pippen told us disqualifies them from being considered a dynasty.
Still, it's hard to say this run of dominance doesn't put them in the conversation of NBA dynasties. And who knows? Maybe Curry's wish will come true and they'll "keep this thing going" for several more years.