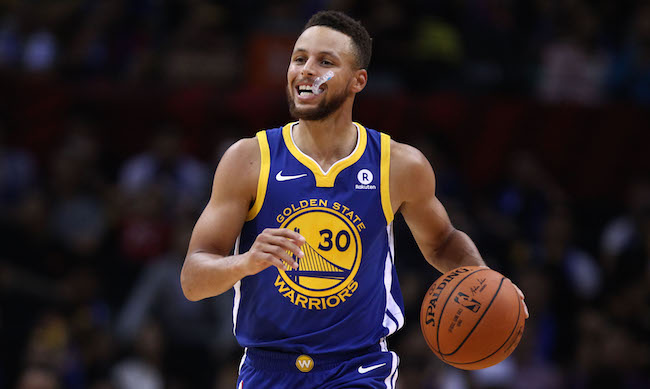 Steph Curry is best known for his shooting prowess, but he also has a claim to being one of the league's best ball-handlers. The two go hand-in-hand in making him one of the greatest offensive threats in the NBA.
Curry's ability to shoot from anywhere forces defenders to press up on him, but that in turn makes his ball-handling skills all the more effective, as he can shake a defender and get by him to attack the rim and either score or facilitate as the defense rotates. Expanding his ball-handling abilities to being among the league's elite is what part of what separates him from being simply a "great shooter" and elevates him to the MVP caliber of players in the NBA.
Recently, Curry sat down with Steve Smith of NBA TV for a segment on his ball-handling, in which he explains that he was a "basic" ball-handler well into his high school career, breaks down some of his best plays off the dribble, and offers up his Mt. Rushmore of all-time NBA ball-handlers.

Unsurprisingly, Curry puts himself on the list alongside Kyrie Irving — the current player most would choose as the best ball-handler in the league — and a pair of Hall of Famers in Pistol Pete Maravich and Magic Johnson. As Curry explains, Magic didn't break guys ankles so much as he was just a master of getting from Point A to Point B in the most efficient way, which Curry says is the point of ball-handling.
It's hard to argue too much with his list, although there are certainly others with an argument to be on there, although he says his dad, Dell, is not among those that can cry foul.
[h/t NBC Bay Area]