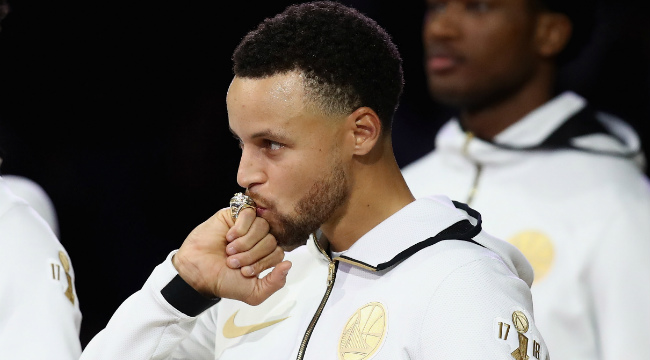 Warriors star Steph Curry is the most popular basketball player on the planet. He might be the most popular athlete period. With that kind of popularity comes a desire from adults and kids everywhere to wear his apparel. Clothing, accessories, and of course shoes. Curry's latest shoe, the Under Armour Curry 5's, are massively popular and there will definitely be some anticipation for the upcoming Curry 6's as well. Everybody should be able to go buy some. Unfortunately for one child, she felt like she was being excluded.
A nine-year-old girl named Riley lives in California and is a huge Curry fan and recently sent him a letter about her inability to get the Curry 5's. They weren't sold out, but when she went to go buy the shoes online there was no listing for girls to buy the shoes. Only boys. This was obviously extremely disappointing for Riley.

Curry eventually got her letter and decided to write one back in response. He posted his response on Twitter so everybody could know that he was working to make sure that the Curry 5's would be sized and available to everybody, not just boys. He also told Riley he was going to send her a pair of Curry 5's as well as some Curry 6's in the future.
This is awesome on Curry's part. We're past the point where basketball shoes should only be listed online as being available for boys. If a kid wants to own a pair of shoes then they should be able to get the shoes. It doesn't matter who they are. Good for Curry and good on Under Armour for hopefully reaching a quick fix on this.