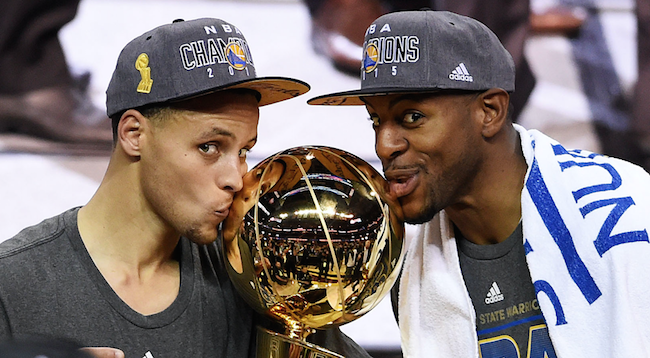 Andre Iguodala is a very deserving recipient of the Bill Russell NBA Finals MVP award.
He was the Golden State Warriors' only viable defender of LeBron James while averaging 16.3 points, 5.8 rebounds and 4.0 assists per game on 52.1 percent shooting overall and 40 percent from beyond the arc. Steve Kerr's series-changing decision to play small-ball full-stop was marked by Iguodala's sudden insertion as a starter in Game 4, too.
The 31-year-old has long been overlooked for his subtle, yet significant two-way impact. If not for a crowning achievement like this one, the coming history would look back on his unspectacular career numbers and fail to illustrate just how great a player Iguodala really was — not anymore, though, which makes his win that much more poetic.
But that doesn't mean it's justified. Stephen Curry was the Warriors' real most valuable player against the Cleveland Cavaliers.
Defense is where Iguodala's influence loomed largest. He was fantastic against the world's best player throughout this series, keeping James from the efficiency that's become a hallmark of his play over recent years despite such otherworldly counting statistics. The voting numbers for MVP, however, casts at least some doubt on just how limited The King really was in the Finals.
Iguodala received seven tallies from the 11-member panel, and James was awarded the remaining four. Yet somehow the former's yeoman's defensive work on the latter is what most accounts for his win. The logic doesn't quite compute here, right? Especially considering Iguodala's relative offensive outburst came due to the sweeping effect of more consistently heralded teammates.
Other than Kerr, it's Iguodala who garnered the most plaudits for Golden State's key mid-series adjustment. It's not hard to see why, either.