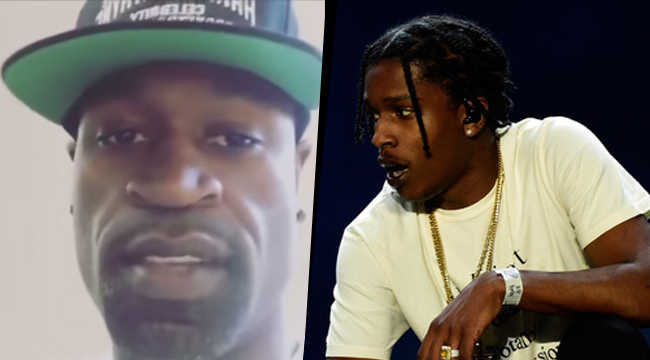 Furor over police violence against African-Americans is as high as it has ever been since the immediate wake of the killing of Michael Brown. Tensions might be even higher, in fact, since this wave of protests has been overshadowed by violent attacks against police. More famous people than ever before are making public statements about the issue, and it seems like it's becoming less damaging to wade into such dangerously divisive waters.
On the other side of the coin, a famous figure like A$AP Rocky has been taken to task for a 2015 interview he gave (in the wake of the unrest in Ferguson) in which he basically abdicated all responsibility for taking a political stance and said he was more concerned with getting laid and looking good.
So every time something happens because I'm black I gotta stand up? What the fuck am I, Al Sharpton now? I'm A$AP Rocky. I did not sign up to be no political activist. I wanna talk about my motherfuckin' lean, my best friend dying, the girls that come in and out of my life, the jiggy fashion that I wear, my new inspirations in drugs! I don't wanna talk about no fucking Ferguson and shit because I don't live over there! I live in fucking Soho and Beverly Hills. I can't relate.
Rocky has since defended himself by saying he's pissed off at the injustice like everyone else, but also slammed the online set for bringing up an old interview, as if 2015 is such ancient history.
Stephen Jackson, native of the Texas area of which Rocky is so fond, does not like the rapper's attitude one bit, and sent a clear message on behalf of his Port Arthur neighborhood:
The key passage of the screed went like this:
The word "trill" can not come out your mouth no more, bruh. You hear me? And the whole of Port Arthur's speaking with me…You not trill, you not from Texas. Get your own swag. That's coming from the president of Port Arthur, where the word "trill" was created.
On the one hand, we applaud Captain Jack for trying to hold Rocky accountable for his public nonchalance, but maybe his anger would be put to better use having a discussion based on the issues of, if not violence perpetrated by and against the police, then at least the responsibilities of celebrity in such political times. Instead, Jackson's proclamation comes off sounding like any other old Snapchat call-out. Everyone in this story can do better.