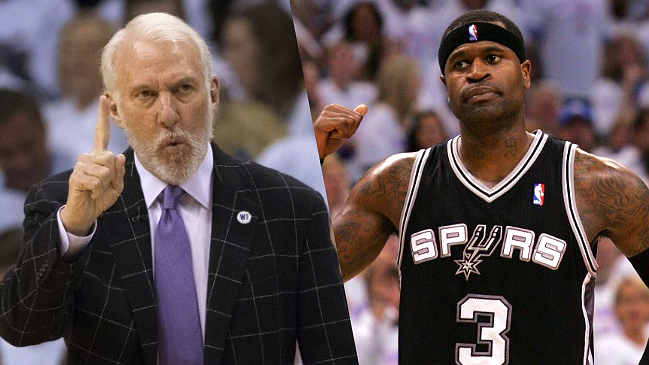 Stephen Jackson says the smartest coach he ever met was also the most disrespectful.
The former NBA star says San Antonio Spurs coach Gregg Popovich was "disrespectful" to him when he asked Jackson to say a "trash" Manu Ginobili was better than him.
Jackson appeared on ESPN's "The Dan LeBatard Show" to talk about Phil Jackson's "posse" comments about LeBron James. The topic then shifted to whether Jackson himself ever felt disrespected by a coach in a similar way. Jackson then told a story from 2013 when Pop's request to help encourage some Spurs teammates caused him to walk out of a meeting with the coach.
From the show, here's what Jackson had to say:
"In San Antonio when I was asked to say other players were better than me to help their confidence so they can play better. That was the most disrespectful thing that I've ever heard from any coach in my life. But at the same time was dealing with the smartest coach I ever met in my life."

Jackson said that Popovich asked him to admit that Danny Green and Manu Ginobili were better players than he was and that the Spurs "need them going forward to the playoffs." Jackson refused to do it, saying "I walked out" when he heard the request.
It's a fairly weird request from a coach that's probably better explained without three years of distance and a lack of context clues, but the fact remains that Jackson refused to do it. He would later be waived by the Spurs in a move Popovich called "a basketball decision and a family decision."
Jackson had especially harsh words for Ginobili, who was getting more playing time than Jackson despite what the forward described as very shaky play.
"Danny Green and Manu Ginobili. They were playing ahead of me. Ginobili was playing like trash at the time, turning the ball over all over the place."

"I just felt like he should've played me."
Jackson clearly felt he was the better player of the three, but history seems to be on Pop's side here. San Antonio made the NBA Finals that year, and Ginobili is in his 15th season with the Spurs, while Jackson had just six games left in his NBA career after he was "disrespected."
(via News4 San Antonio)