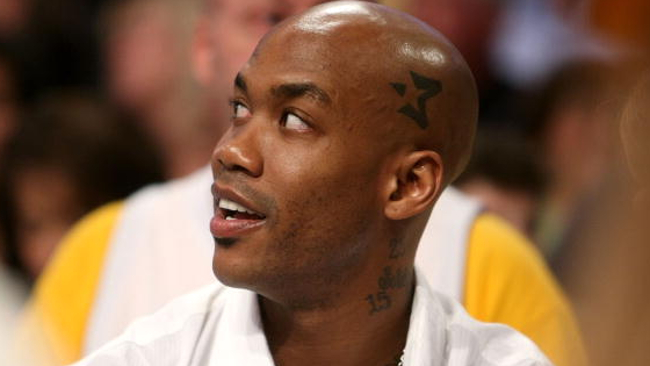 Despite their different thoughts on price points for shoes, Stephon Marbury wants to help Big Baller Brand get bigger. The former NBA star currently a free agent in China said if LaVar Ball came calling, "he would listen."
Marbury spoke to The Undefeated about what the Ball's budding company must do to get bigger now that they've decided to go it alone in creating a signature shoe for Lonzo Ball before he is drafted.
And though Marbury—who sells his shoes at $14.95—disagrees with making kids pay $495 for ZO2 Primes, he says he understands what the Balls are trying to do, even when it comes to LaVar Ball talking his way out of a shoe deal.

"LaVar Ball wants a billion dollars. There is nothing wrong with saying that is what he wants. It's how he's said it," said Marbury, a China Basketball Association free-agent guard. "If he was able to express why he wanted it and explained it without saying it how he said it, which is his prerogative, he wouldn't be scaring people. He has three kids who are really good basketball players. He should want to own his own brand. That is the smartest way of doing it. With his son [Lonzo] being a dominant college player and projected to be a high pick in the NBA draft, he will be able to use his capital that he makes to invest in himself, which is the best investment.
Marbury was sure to say that, unlike Dick Vitale, he thinks the eldest son of LaVar Ball will be a good NBA player.
"They have three guys that can play basketball," Marbury said. "These kids can play. You can't look at them and say they can't. They can."
Drawing from his own experience manufacturing in China and growing his own brand, Marbury said if the Balls look to China to make their shoes, they should come to him first. When asked what advice he would give Big Baller Brands, the answer was simple.

Come rock with us. We know the structure that is needed. We don't have the capital, but with my brand we have the resources for what is needed from the manufacturing side in China. He doesn't have to do something with Starbury. We could work together where we can help put them into the position to speak to all the people who have that access to do what they want in China. I'm not saying I want him to come under my umbrella and be with Starbury, but I can position them by setting them up with the people that they need to speak to in order to create their infrastructure if they want to infuse capital into themselves.
Marbury said when his 2006 partnership with Steve and Barry's ended after the store went under, he "didn't bring my brand to anyone." He said building something on his own was "the hardest thing I've ever had to do."
I didn't know the intricate details needed to run a shoe company. It's super-duper hard. You need a big team, and my team is lean and mean. We've all learned how to multitask and do different things. Whereas Nike has departments, we have people. You understand that. With what we want to do and have the world take it, it's a different movement.
Marbury doesn't come off here as someone desperate to become essential to the Big Baller Brand. Rather, it's the advice of a business professional a decade after he went down a very similar path the Balls intend to tread. The whole interview is very interesting, though it's hard to imagine LaVar Ball reaching out to someone who makes inexpensive shoes that clearly don't fit 3B's brand expectations.