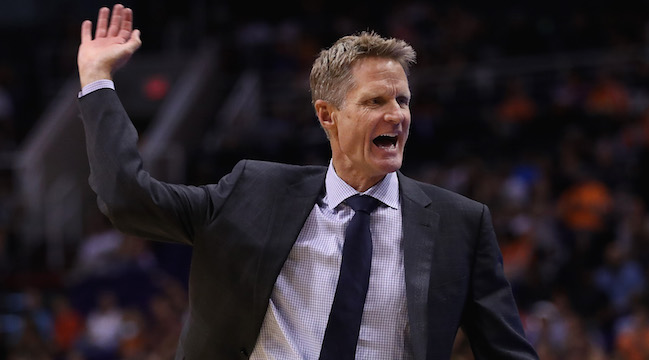 Steve Kerr worked with Shaquille O'Neal at TNT for a number of years before becoming the Warriors head coach, and now finds one of his players embroiled in a feud with the Hall of Famer and Inside the NBA analyst.
Shaq and Warriors center JaVale McGee went at it again on Twitter on Thursday night and early Friday morning, trading shots that escalated into ugliness. This isn't the first time the two have been at odds over Shaq constantly making fun of McGee's mistakes during his "Shaqtin' A Fool" segments, but it was one of the more heated exchanges between the two.
On Friday, Steve Kerr and Kevin Durant both came to McGee's defense, with Durant taking shots at O'Neal that makes us seem destined for another star player-TNT analyst spat like we saw between LeBron James and Charles Barkley. Kerr took a more measured approach, but said he thinks McGee's frustrations are totally understandable.
"JaVale has been fantastic for us as a player, as a teammate," said Kerr. "He's a fantastic guy. He's funny. He's fun to be around. He's a total pro. I don't blame him for being frustrated that Shaq's been picking on him for years and years and years. I think that JaVale, rightfully so, probably gets frustrated. It never ends."
Part of McGee's frustration has been because he thinks Shaq's constant jabs at him and pointing out only McGee's mistakes have given him a bad reputation around the league. Kerr even noted that he had some preconceived thoughts on what McGee would be as a player and person when he got to Golden State, only to be proven wrong.
"You think about JaVale's career where you're in this position where somebody on national TV is making fun of you night after night, it's not the greatest thing for your reputation. I can tell you I had a preconceived notion of JaVale before he got here that turned out to be totally false. A lot of that had to do with what goes on with Shaq's 'Shaqtin' A Fool.' It's unfortunate the way this whole thing's played out."
Kerr didn't seem too bothered that his player was embroiled in a Twitter beef with O'Neal, and if anything seemed to understand it. Kerr even validated McGee's concerns about the adverse effect Shaq's jokes have had on his reputation. This certainly won't be the last we hear of this, as next week's Inside the NBA will undoubtedly feature a rebuttal from O'Neal to McGee and Durant.