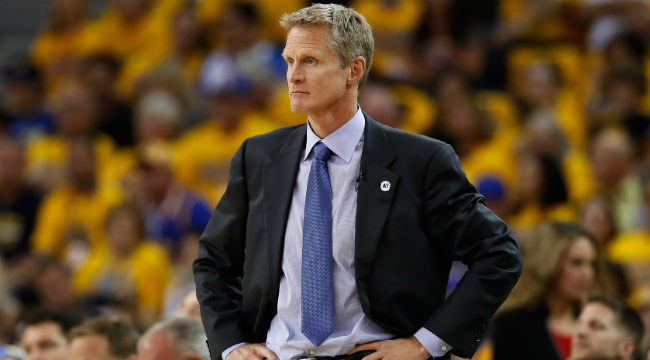 The NBA's officiating reports on the last two minutes of close games have become, for many, a vital resource to see whether a referee blew a call relative to the official rules, or simply relative to a fan's bias. Yet Steve Kerr, whose Warriors were victimized by a blown travel call on Russell Westbrook in Game 1 of the Western Conference Finals, isn't a fan of them at all.
Here's the Coach of the Year courtesy of Fred Katz from the Norman Transcript.
"No, I don't like the practice. I appreciate the NBA trying to be transparent, but it's unfair to the officials. I feel like it throws [officials] under the bus. They have an impossible job. They really do. And there are going to be bad calls both ways every game. They're never going to be perfect. They're doing the best they can. I don't think there's any point personally in exposing bad calls. It doesn't serve a purpose to me."
LeBron James expressed a similar sentiment a few weeks ago, but both he and Kerr are missing the point. They can't see why it would help, because they do everything in their power to feel like they can control the outcome of a game with hard work and preparation. They don't need or want what feels like a list of excuses printed out by the league, but it's not for them.
Fans already feel powerless to control the events of sporting events that they can't help but care deeply about. For years, when a call didn't go your team's way, all you could do was bitch and moan and feel like a conspiracy theorist. The bitching and moaning isn't going anywhere, but those last two minute reports are at least acknowledgements that the entire system isn't out to get your team. It's cold comfort, but it's a damn sight better than it used to be.
Now Kerr and LeBron will have to sit there and take it, just like fans have done for decades.